The human subconscious automatically responds to the word "free", whatever it refers to. The term "free solar panel" is no exception. Many solar panel companies use this marketing ploy to attract customers. How to go solar for free and whether this is possible – detailed answers in the material.
What Does It Mean When a Company Offers Free Solar Panels?
If you decide to install a solar station at home, it is essential to remember that it is impossible to get solar panels for free. The program, which allows you to install panels without buying solar equipment for personal or credit funds, consists of transferring solar power plants for rent or PPA.
It works like this. You respond to an advertisement about the no-cost solar program and apply to the company for this service. There you get an offer to rent solar panels or buy green energy from a station installed on your roof. The unpaid installation of panels on your territory argues for free solar content. Benefits go to both parties of cooperation, and here's how:
For the user, electricity bills are reduced.
Companies receive incentives from the state for installing a free solar system and accept monthly payments from the user for renting a solar power plant or for used electricity.
The expectation is that a client who has visited the company will agree to a no-cost solar program, which turns out to be not free at all. The service will include:
Solar panel free installation on the roof
Registration activities
Panel maintenance
But free solar panels for home use will be the company's property, not yours. With the lease option, you pay a fixed monthly payment; with a PPA contract, you pay for the amount of used electricity produced by the panels.
Can the Government Provide Free Solar Panels?
When wondering how to get free solar panels from the government, the answer is unequivocal – no way. You have to pay for solar panels if you haven't bought and claimed ownership of them. By choosing lease or PPA options, you lose the opportunity to qualify for additional sources of savings – incentives, and benefits for renewable energy.
It is not worth considering free solar installation as a promising direction. There are many pitfalls. It is important to study the solar energy legislation in your state. When there is no upfront cost solar panels can be provided to the following categories:
Veterans receiving benefits
People who do not have any outstanding electricity bills
Consumers who have the required level of income, including all those living in the family.
Those who used electricity of a certain amount (kWh) in the last year;
Owners of solar stations
Consumers who have the system located at their primary or secondary residence
But these requirements do not guarantee that the local authorities will provide a no-cost solar system; they do not have the authority and legislative background for this. The owner of a solar home station can qualify for an investment tax credit, which will bring monetary benefits. Government free solar panel scheme – is a no-cost solar scam, cleverly exploited by unscrupulous companies.
Solar Leases: An Affordable Way To Go Solar
If you want to get free solar panels by rent/PPA, it is not as profitable as it might seem. Contracts are drawn up so that if problems arise, you lose significant amounts. Savings from free solar panels for home are tangible only when everything goes smoothly. The main risk areas are the following:
Early termination of the contract: If you decide to abandon the installed solar panels for free, the bill for terminating the contract can reach $ 20,000;
Selling a house: Property buyers rarely agree to a house with rented solar panels, so they will either have to terminate the contract or move the installation to a new location, which entails high financial costs;
Roof problems: If you need to repair the roof and temporarily remove the panels or the installation will cause problems with the house, you will have to pay all the costs of repair, dismantling/installation of solar equipment.
It is impossible to call the option of renting/PPA as a free solar panels scam. Still, it is important to carefully study the contract, pay attention to the text in small print, and, preferably, strengthen your position with the legal help of a specialist.
In Search of Free Solar Panels? Instead, Consider Getting a Solar Loan To Pay For Your System
Realizing that getting free solar panels from the government is impossible, you should know that rent and PPA do not make a free solar program; the optimal solution is to use a solar loan. Solar installations become more affordable every year, expanding the range of consumers. You can get a solar loan for the following purposes:
Security of the house
Opening a credit line
Taking advantage of domestic lending
Getting a loan from the company that will install the panels
Since getting free solar panels is a utopia, solar energy loans are a great opportunity to produce and use clean electricity and become the system owner. The solar station will pay off in a couple of years, and you will get free solar energy. You can also qualify for a federal tax credit that will pay you back up to 30% of the installation cost, and the excess energy can be sold.
Cash Purchases vs. Loans and Leases as Options for Solar Comparison Purchases
Another option for buying a solar system is to purchase no-cost solar panels for cash. This is the best and most profitable solution when installing solar panels. The initial costs seem disproportionately high, but this method of purchase has several advantages:
You get electricity at a discount for 25 years, and if you consider the regular increase in electricity prices, even more.
You do not pay interest rates for a loan and save personal funds.
You have access to all options for state support of green energy, which significantly reduces the cost of the system.
The solar installation becomes your property, and the value of your home increases in contrast to renting batteries or PPA.
By buying solar power plants for cash, the owner will receive solar power for free for many years, or almost free of charge. The graph clearly shows how different the potential income is from different ways of financing a solar station (cash, solar panels with no upfront cost, and personal loan).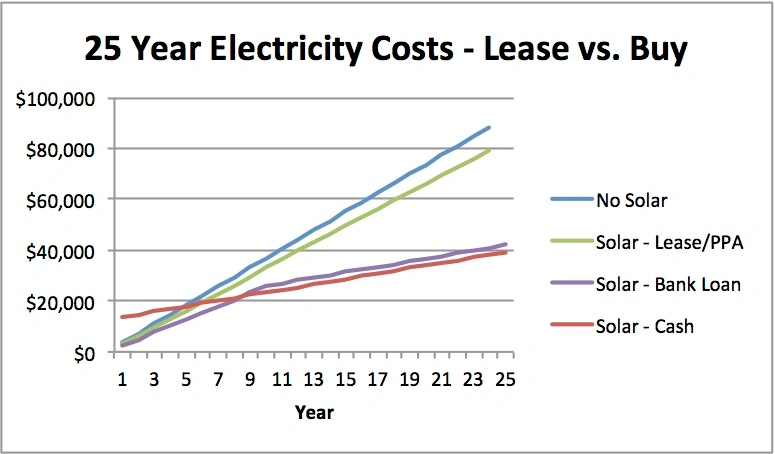 Source: HeatSpring Magazine
Reduce Your Initial Outlay With Local and Federal Solar Incentives
It is already clear from the material how the no-cost solar program works. If you still want to take the risk of installing free roof solar panels, accept that you won't be eligible for local and state roof benefits given out to homeowners for using clean energy. The company that offers and installs free home solar panels for you will receive all kinds of rewards.
If you purchased a solar system with personal or credit money, all types of incentives for switching to renewable sources will be available. The list of state support tools for homeowners with solar power plants looks like this:
ITS
SREC
Local motivations
Each type of stimulus has its characteristics.
ITS
That's best incentive from the state. That is a federal tax credit issued for solar energy investments. These benefits are available to any citizen of the country, regardless of the state, who buys a solar panel system. Until 2023, the loan covered up to 26% of the total cost of the solar system, and from this year, the state has increased the percentage of loans to 30% of all related installation costs (price for solar equipment, plus installation costs). The 30% refund applies to all solar systems operating before 12/31/2023.
If you choose the free solar panel program or PPA, the credit will go to the home station installer, not you. For example, if free solar panels installed on your home cost $20,000, ITS will refund $6,000 to the owner (installer company). This amount is a good financial incentive when investing in clean energy, so why give it to a commercial structure?
SREC
The state allocates quotas to each state for solar energy production to accelerate the transition to renewable energy. That prompted the issuance of loans for renewable solar energy – SREC.
If the home has a free roof with solar panels producing at least 1 MWh (megawatt hours), owners can take advantage of SREC lending. The second point is the reward for certain energy production by the system. The bottom line is that the utility system will pay the owner for producing a set amount of solar electricity, regardless of whether he uses it or redirects it to the grid.
Local Incentives
Local authorities are also taking measures to popularize solar energy. Getting solar panels at no cost will not work, but if you use all available tools to save money, the high cost of solar systems is no longer so noticeable.
A net metering program is available in some states, and it consists of compensation from utilities for excess kilowatt-hours of electricity sent to the grid. Local renewable energy incentive programs may offer direct discounts on solar panel purchases, but free solar installations should not be counted on.
To summarize all of the above, we can highlight several main theses:
Free government solar panels are a myth.
Solar panels installed for free are not the property of the homeowner.
Solar save program is profitable if you install the system for credit and cash.
Solar panels are really free only in the case of rent or PPA, but they will not belong to the house owner.
The return on investment in solar energy will become tangible only when buying panels. The savings from renting solar equipment is minimal, as is the PPA option. Each citizen is free to choose the option that best suits their needs. The main thing to understand is that only solar radiation is free in solar energy.
Frequently Asked Questions
Suppose you're looking for information on how to get free solar panels from the government in 2023 or how to avoid getting scammed when installing panels for free. In that case, reading people's questions about financing options when switching to solar energy is helpful.
Is free solar really free?
No. Solar service companies will install the panels on your home for free, but you will have to buy the electricity generated by the panels from them. The second option – you draw up a lease agreement for these panels and pay a fixed amount every month, regardless of the amount of energy consumed. The solar system will remain the company's property.
Will I save money if I install solar panels for free?
The savings from installing free solar systems are real. For example, the electricity bill used to be $100, but after being included in the solar system free program, it will drop to $75-80. However, if the operation of the solar station goes through complications (the roof is damaged, you decide to sell the house or want to terminate the contract), this will result in problems and high financial costs.
How can I get solar panels for free?
Contact any company that installs solar panels and sign a contract to rent a solar system or purchase solar electricity under the PPA program. With this form of partnership with the company, you do not have to pay fees; the installer undertakes all work on system registration, installation work, and maintenance.
Will the solar station become my property after the end of the lease term?
No. Free installation of solar panels does not imply any further change of ownership. After the end of the lease period, the panels will remain the company's property, as before.
Should you trust advertising about free solar power?
Solar equipment is expensive, although the downward trend in system costs is increasing. There can be no completely free offers for equipping a home solar station. If you do not have to pay for the panels themselves and installation, using the free solar panel installation programs, then you will have to pay for the use of electricity.
How not to get scammed at solar panels free installation?
The first is to compare offers from several solar equipment providers and not to follow annoying advertisements. The second is to carefully read the terms of the agreement and understand each item. Study in detail the obligations of the parties, actions in case of force majeure, and the amount that will have to be paid upon early termination of the contract.