Each person cares about their safety and the safety of their property and territory. Very often, street video surveillance is installed for these purposes. Developers are trying to improve and introduce new product samples in connection with such consumer requests. One such new option is solar-powered security cameras. That is an efficient device that uses the sun's energy for power. In addition, solar panel for cameras greatly simplifies the use and maintenance of equipment.
What Are Security Kits Powered by the Sun?
Solar power kit for security cameras is a considerable addition to outdoor video surveillance. They greatly simplify the tracking process because removing and charging batteries or running wires is unnecessary. That is also a great alternative for those cameras installed far away from power outlets. Solar security camera systems will ensure battery life all year round.
The acquisition of solar outdoor cameras can be in two versions:
The solar panel is placed next to the camera.
The panel is already built into the video surveillance device.
The second option means the solar panel camera is immediately ready for use; you must connect it. But in both options, there is no need to use energy from the central network or replaceable battery packs. Solar power supply for security cameras takes place 24/7, thus eliminating any problems and interruptions in the system.
Outdoor solar-powered security camera features a robust design that allows operation anywhere, under any conditions. Depending on the model, the modem can work and transmit a signal at various distances, measured in miles. Such remote video surveillance elements are perfect for private, industrial, commercial, or law enforcement applications.
Solar security cameras provide the following benefits:
Lack of wires and cables
Ease of installation and dismantling
Low maintenance costs
Minimal environmental impact
Can have an installation in hard-to-reach places
Operating temperature range from -30°С to +50°С
To choose the right solar security camera, consider the amount of sunlight in a given region. Install panels in places where most of the day, from about 9:00 to 15:00, is sunny.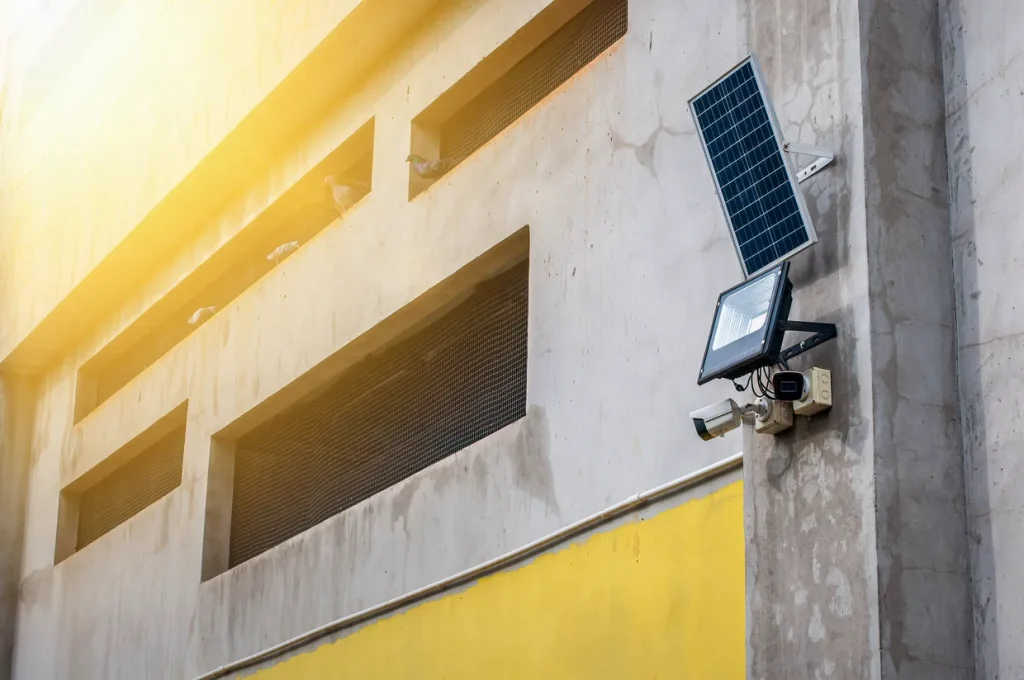 Do-it-Yourself Solar Security Camera
When talking about solar-powered outdoor security cameras, the user can choose from two alternatives:
purchase a ready-made solar-powered video surveillance system;
add a solar panel to an existing camera.
It is possible to redo the equipment independently, although this requires some time. If the camera has Micro USB or USB-C outputs, then it will be easier to connect third-party panels.
Also, to make a solar power camera yourself, you need to know the characteristics and requirements of the camera.
For the manufacture of outdoor solar security cameras, you will need the following components:
Solar panel
Charging controller
Battery pack
DC converter
The installation process of the camera with solar panels depends on the following factors:
Correspondence between the battery pack's supply voltage and the wireless camera's voltage. Otherwise, the device will not work or even burn out. Typically, security cameras operate on 12V or 24V.
It is necessary to use a power inverter to change the input voltage from DC to AC for solar outdoor security cameras.
Solar panels must produce energy at the optimum rate for cameras, recharge quickly, and keep stored energy. A charge controller that can go with the panel will simplify these tasks.
Environmental factors will constantly affect solar-powered surveillance cameras. These include moisture, dust, and precipitation. Therefore, the entire system must be waterproof.
It is better to place the solar panel towards the south side to increase the exposure to the sun.
You need to understand that solar cameras require an investment, and these systems are more expensive than analogs.
Another important point to consider is that by making changes to security cameras, and by replacing native batteries, the consumer will immediately lose all manufacturer's warranty obligations. Before designing a solar panel security camera, it is best to consult with the manufacturer's support service.
Most Effective Solar Panels for Your Security Camera
Suppose there is a need to supplement your camera with solar panels. In that case, finding one will not be difficult because many leading solar-powered webcam brands supply panels separately. For a camera from a popular manufacturer, there is also a corresponding solar battery.
The best examples of panels for video cameras will be:
Wasserstine Premium Panel
Ring Solar Panel
Arlo Solar Panel Charger
Camera solar panel by eufyCam Solar
Zumimall 5V cameras
Each option will perfectly complement its brand's cameras, thus ensuring the efficient operation of solar security systems. When selecting the necessary panel, consider user parameters and equipment requirements.
If we consider solar cameras security with already built-in panels for sunlight, then the leaders will be:
Arlo Pro 4 with Arlo Solar Panel Charger;
Ring Stick Up Cam Solar;
Wyze Outdoor Cam v2 plus Solar Panel.
These solar-powered wireless security cameras are modern high-tech devices that will fully provide video surveillance tasks. They also have an ergonomic and stylish appearance, which matters when choosing a gadget.
How Do Solar Panels Work?
The principle of operation of the solar panel for security cameras is to capture the sun's rays and convert their energy into electrical energy. When getting on a semiconductor plate, light quanta knock out electrons from a chemical element (silicon in this case), creating an electrical current.
To cover household needs, one such chemical source is not enough. Therefore, the elements are connected in parallel or series into a panel. The area of such panels already affects the amount of power produced by the solar panel for CCTV cameras.
It's supplemented with the following elements to ensure the entire system of solar panel security cameras works efficiently:
Inverter
Accumulator battery
Charging controller
Together, all this ensures the functioning of the outdoor camera with solar panels:
Solar energy hits the plates.
Heating plates release electrons.
Electrons move along conductors
Conductors provide batteries with a charge.
Another important criterion for the power received from a solar power video camera is the intensity of sunlight: the geographical location of the area, the season, and the weather.
Questions About Solar-powered Security Cameras
The most common questions about solar-powered wireless IP cameras are those related to the operating conditions and efficiency of the devices. For example, how does a solar-powered camera perform on a cloudy day? Will the battery pack charge the device?
The answer to this question is yes, it will. In this case, the power of the security camera with a solar panel will be proportional to the amount of light that hits the panel. Cloudy weather can provide up to 30% of rated power. Clouds cannot completely prevent sunlight from entering; some parts of it will break through. But the panel will produce energy for the surveillance camera.
How Long Do Security Cameras Powered by Solar Energy Last?
A solar power security camera can work for a very long time. If the region has good solar activity and the panels are installed according to the recommendations and kept clean, then such systems rarely require the replacement of battery packs.
Regarding the operation of the device on a full charge without access to sunlight, the solar-powered outdoor camera, depending on the model and manufacturer, will provide several hours of battery life.
Do Solar-powered Security Cameras Function at Night?
That's another popular question about the operation of a solar video camera. In this case, you can reassure users, the camera fully works at night thanks to the accumulated electricity reserve.
Many samples are equipped with highly sensitive sensors that contribute to obtaining high-quality images in the dark.
Any solar-powered security camera has a built-in battery that will last for months. That will not allow the user to deal with the camera discharging and turning off during the night. However, if that happens, the problem can be not in the battery pack but in the solar panel.
What Benefits Will I Get From Using Solar Panels for Surveillance Cameras?
The use of solar panels for video surveillance devices is a good solution for those who are looking for practical benefits:
– The advantage is the ease of installation.
– An important advantage is the uninterrupted power supply.
– The solar energy of the panels is converted into the electric current required for the operation of the cameras rather quickly. 
Considering that cameras are essential for a business or home to ensure security, the benefits of their uninterruptible power supply are a priority. Solar panels enable independence from the electrical network, an important factor in their favor.
Is It Profitable To Use Solar Panels for Cameras?
There's no denying that solar panels are beneficial to use since they make obtaining electrical energy fairly economically possible. Therefore, they are installed not only where problems with the power grid may exist. Even if there are no such problems, the saving factor is a plus in favor of this solution. 
Another advantage that proves the cost-effectiveness of this choice is the durability of solar-powered cameras. Therefore, if you have questions and doubts in terms of financial costs, then they are resolved in favor of solar panels for video surveillance systems.
Can I Install Solar-powered Cameras Myself?
Self-installation of such cameras is possible if their owner has figured out the technical nuances of this procedure. No special permissions are in need to do this on your territory. Nevertheless, entrusting this issue to professionals will be much easier. They regularly perform such actions and know how to install cameras quickly, reliably, and optimally from the point of view of all technical nuances. 
Therefore, each owner of cameras powered by solar panels chooses the right solution for himself. Someone prefers to deal with cameras and peripherals independently, while others trust professionals.
Conclusion
The solar-powered camera system is a practical device for video surveillance and security in certain areas. Solar panels make it possible to improve the cameras and, without worry, leave them for a long time.
Using solar energy, the consumer not only saves his resources in the long term but also contributes to the preservation of the environment, reducing its negative impact.
Naturally, everyone decides whether it is worth purchasing solar security systems. Buying a ready-made kit is much easier than modifying an existing one. However, this is also quite achievable. Many CCTV manufacturers also supply off-grid solar panels with special designs for their cameras. That encourages consumers to buy appliances of one brand.
When the consumer wants to find cheaper analogs, he may face the fact that such panels will not be compatible with the Wi-Fi solar camera from the manufacturer. But at the same time, buying a panel, even an expensive one, is more affordable than purchasing a completely new camera with a built-in solar battery.
{"ticker_effect":"slide-v","autoplay":"true","speed":"4000","font_style":"normal"}