How To Pick a Solar Company in Connecticut and Save Money?
1. Top-notch CT solar incentives: The Connecticut Green Bank provides several incentives like ZREC program, making solar installation more affordable.
2. Favorable solar policies: CT has robust net metering laws, which allow you to earn credits for extra power produced by your solar panels.
3. State Solar Tax Credits: CT offers tax exemptions and credits for solar consumers. This directly helps in offsetting solar installation costs.
4. Reputable solar installers: Connecticut houses highly-rated solar companies, ensuring top-notch service and quality.
5. CT's sun-friendliness: Despite not being the sunniest state, CT receives about 4.2 hours of sunlight per day on average, enough for efficient solar production.
6. High electricity Costs: CT's electricity costs are approximately 20.94 cents per kWh, significantly above the national average, making solar a cost-effective energy solution.
7. Sustainable Energy Future: More than 60% of Connecticut's electricity comes from natural gas, hence going solar reduces dependence on non-renewable resources.
8. Long-term financial benefits: Studies show that solar can save Connecticut homeowners up to $47,522 over 20 years.
These factors make solar an attractive investment, offering green energy while reaping substantial savings.
How Much Electricity Solar Panels Generate In Connecticut?
Connecticut's annual sunlight measures around 4.2 hours per day. This amps up solar electricity output. A typical 5 kilowatt (kW) system can yield around 6,200 kilowatt-hours (kWh) annually. In winter, you can expect around 473 kWh/month, while summer escalates to 725 kWh/month. However, the state's harsh winter does lead to drop-offs: December's production barely reaches 365 kWh. Furthermore, your panels' positioning influences energy production. An optimal south-facing angle will maximize your yield. Ideally, choose less shaded areas for installation to avoid capacity losses. Moreover, Connecticut's regulations require utility companies to buy your excess production, further enhancing your return. Making the switch to solar, therefore, not only lets you utilize clean energy but also provides a solid energy generation investment.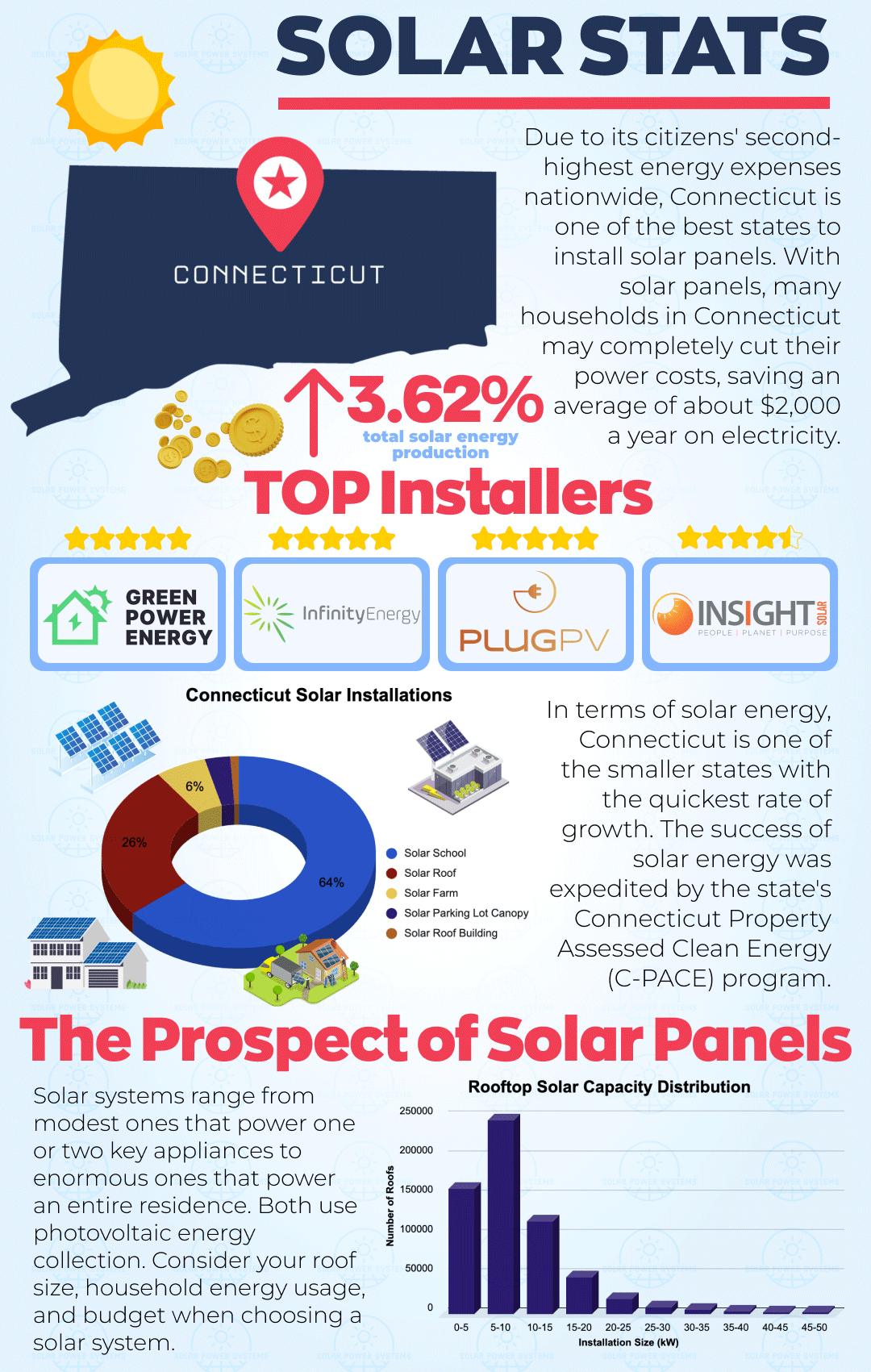 Find best solar installers in Connecticut
153 S Riverside Ave, Plymouth CT, 06786

6.8 mi

7 McKee Pl, Cheshire CT, 06410

9.3 mi

7 McKee Place, Cheshire, Cheshire CT, 06410

9.8 mi
Average Cost of Solar Installation in Connecticut by System Size
| System Size (kW) | Cash Purchase Price (After tax credit) | Financed Purchase Price (After Tax credit) |
| --- | --- | --- |
| 4kW | $10,992 | $11,656 |
| 5kW | $13,420 | $14,291 |
| 6kW | $15,720 | $16,764 |
| 7kW | $18,033 | $19,238 |
| 8kW | $20,510 | $21,942 |
| 9kW | $22,768 | $24,269 |
| 10kW | $24,900 | $26,570 |
What To Look For in a Solar Installer?
1. Consider credentials: Connecticut mandates solar installers to hold a valid E-1 or E-2 electrical license.
2. Factor in experience: Experienced installers have a track record of successful solar installs protected by state laws.
3. Look at reviews: Websites like SolarReviews offer insights into a company's customer service and reliability.
4. Compare pricing: CTGreenBank provides refinancing options via solar installers for affordable solar energy.
5. Review warranties: Installers should offer comprehensive warranties to back their work, as mandated by state regulations.
6. Understand their equipment: Connecticut's varied climate requires reliable equipment that can withstand diverse weather conditions.
7. Check for transparency: The installer should disclose all relevant data about system performance and financial options.
8. Local know-how: Local vendors are privy to CT's installation codes, permit process, and rebate incentives.
9. Industry certifications: NABCEP certification is a crucial benchmark, ensuring top-tier workmanship and ethical practices.
10. Understand solar incentives: Connecticut residents are eligible for the Residential Solar Investment Program, reducing the cost of solar installations.
As per Solar Energy Industries Association, in 2021, Connecticut harnessed 576.62 MW of solar energy, making it essential for residents to pick a trustworthy installer.
Is It Worth Investing in Solar in Connecticut?
Undeniably, solar investment in Connecticut is a smart move. The state fosters a robust pro-solar legislative ecosystem. For instance, the Residential Solar Investment Program provides incentives which reduce solar setup costs. In Q1 2022, the Connecticut Green Bank reported that 404,974 square feet of panels were installed. Cumulative installations now total over 3.62 million square feet.
Connecticut's legislation further sweetens the deal. Net metering laws allow solar owners to sell back excess power, boosting ROI. As per Energy Sage, Connecticut homeowners can save around $44,252 over 20 years through solar use.
Furthermore, the state's climate boosts feasibility immensely. According to NREL data, Connecticut receives adequate annual sunshine, ensuring optimal solar panel productivity. Chronicles Estimate reports that Connecticut receives almost 1,674 hours of direct sunlight yearly.
Tax-wise, the state plays ball too. Connecticut offers a 100% property tax exemption for "Class I" renewable energy systems. Consequently, solar panel owners aren't burdened by additional property tax.
Moreover, solar resale value in Connecticut is soaring. Zillow reports a 4.1% increase in home value with solar installation. It's a lucrative investment, given the unique blend of feasible climate, supportive legislation, and compelling financial incentives. Thus, capitalizing on solar power in Connecticut is a no-brainer.
How Solar-Friendly Is Connecticut?
Connecticut's solar resource potential is solid with an average of 4.2 kilowatt-hours per square meter per day. Boasting more than 6,000 solar installations statewide, sustainability is becoming the new norm. The law, known as Connecticut's Renewable Portfolio Standard (RPS), mandates 48% of power to be sourced from renewables by 2030. The 2020 Solar Jobs Census confirms, Connecticut has achieved a 9% employment growth in the solar industry, outpacing the national average. Connecticut's climate is seemingly moderate, yielding an average 2,400 hours of sunshine annually. Pro-solar regulations empower end-users. Net metering policies allow consumers to sell excess solar power back to the grid. Positive Renewable Energy Credit market supports investment growth. Net-zero buildings help reduce the overall carbon footprint. Simultaneously, the ZREC program offers financial incentives for zero-emission renewable energy systems. Coupled with the 26% federal solar tax credit and local incentives, this slashes initial costs. Case in point, Cromwell solar farms generate over 4.4 million kWh of clean electricity annually. Clearly, Connecticut's thriving solar ecosystem pinpoints a blend of conducive law, regulations, favorable climate, and innovative business models. It's not just about going green; it's also about harnessing solar power economically and ethically.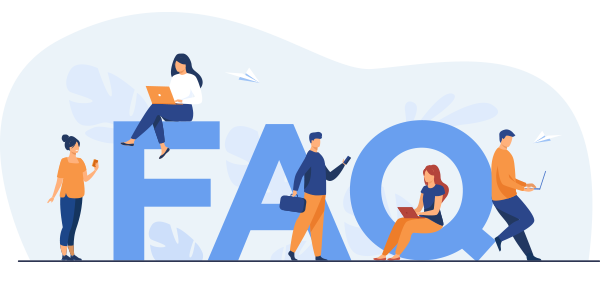 Frequently Asked Questions
What are the most important factors to consider in Connecticut State?

1. Efficiency Matters: Consider solar panel efficiency to maximize energy production.
2. Reliable Installers: Check reviews for installers' credibility and performance.
3. Financing Options: Explore various financing options like loans, leases, or PPAs.
4. Sun Exposure: Evaluate the sunlight availability at your property.
5. Inching towards Incentives: Investigate local and federal tax credits.
6. Long-term Savings: Solar is a long-term investment, calculate potential savings.
7. Grid Connection: Understand grid integration process and net metering policies.
8. Quality Over Cost: Top-tier panels may cost more but last longer.
9. Installation Timeline: Anticipate timeframe for design, permits, and installation.
10. Equipment Warranty: Check warranty coverage for your solar system.

How do I find the most affordable solar installer in Connecticut State?

Start by conducting localized online searches. Use keywords like "affordable solar installers in Connecticut". Check the installer's qualifications. Opt for established installers with solid reputations. Read customer reviews for service quality insights. Contact multiple installers for personalized quotes. Assess the cost efficiency of each proposition. Factor in the warranties and post-installation services. Recognize that the cheapest upfront may not yield the greatest long-term value. Consider different financing options these installers offer. Remember, due diligence is key for optimal results.

Which companies did we not choose for the best in Connecticut State?

Good question! Not all solar providers made our A-list. We're all about legitimacy, efficiency, and customer satisfaction. If a company lacks any of these, it's out. Besides, we consider critical metrics like installation quality, equipment used, and after-sales service. Some simply didn't measure up. So, to keep our rankings top-tier, these underperformers got the boot. We're committed to fueling your solar journey with only the cream of the crop. Our rigorous approach ensures you get top-notch solar solutions. Bottom line? Our ranking is all about quality over quantity. No fluff, just solid solar installers.