How To Pick a Solar Company in Illinois and Save Money?
1. Case in point, Illinois experienced a 2,275% growth in solar jobs from 2012 to 2019. This substantial growth suggests keen competition amongst providers, ensuring the best deals for customers.
2. Alternatively, leverage valuable local research. In Q4 2020, Illinois hosted over 10,000 solar installations and contributed to 14% of the state's electricity.
3. The state offers lucrative rebates and tax incentives which can cover up to 26% of the solar panel costs, making it a cost-effective long-term investment.
4. Take note, however, the 26% Federal Solar Tax Credit (ITC) draws to a close at the end of 2022. Proactive action is required to reap this benefit.
5. Consider Illinois' Solar Power Performance Payments. According to SEIA, these payments can reduce solar system payback time by half.
6. The state's strong net metering policy ensures that surplus solar energy is credited to your account. An enticing monetary return for sure!
7. Lastly, Illinois's unique climate, with 195 sunny days annually, maximizes solar power potential. This ensures you get the bang for your buck!
How Much Electricity Solar Panels Generate In Illinois?
Illinois enjoys roughly 200 sunny days annually. With a 5 kWh solar system, you can jam-pack around 6,500 kWh of electricity annually. Peak solar generation occurs during summer, with an estimated 830 kWh/month. On the flip side, winter months yield around 350 kWh/month. Factoring Illinois' geographical location - using a tilt angle of 35 degrees for your panels - your solar prowess increases by 10%. Sunshine isn't the only key - consider each element. Enforcement of the adjustable-block program makes higher amounts of solar energy accessible. So, by tapping into the Sun's power, Illinois residents potentially harness thousands of kilowatts annually. Harnessing solar power isn't just about sunny days, it's a smart, efficient energy path. Ready to ride the solar wave, Illinois?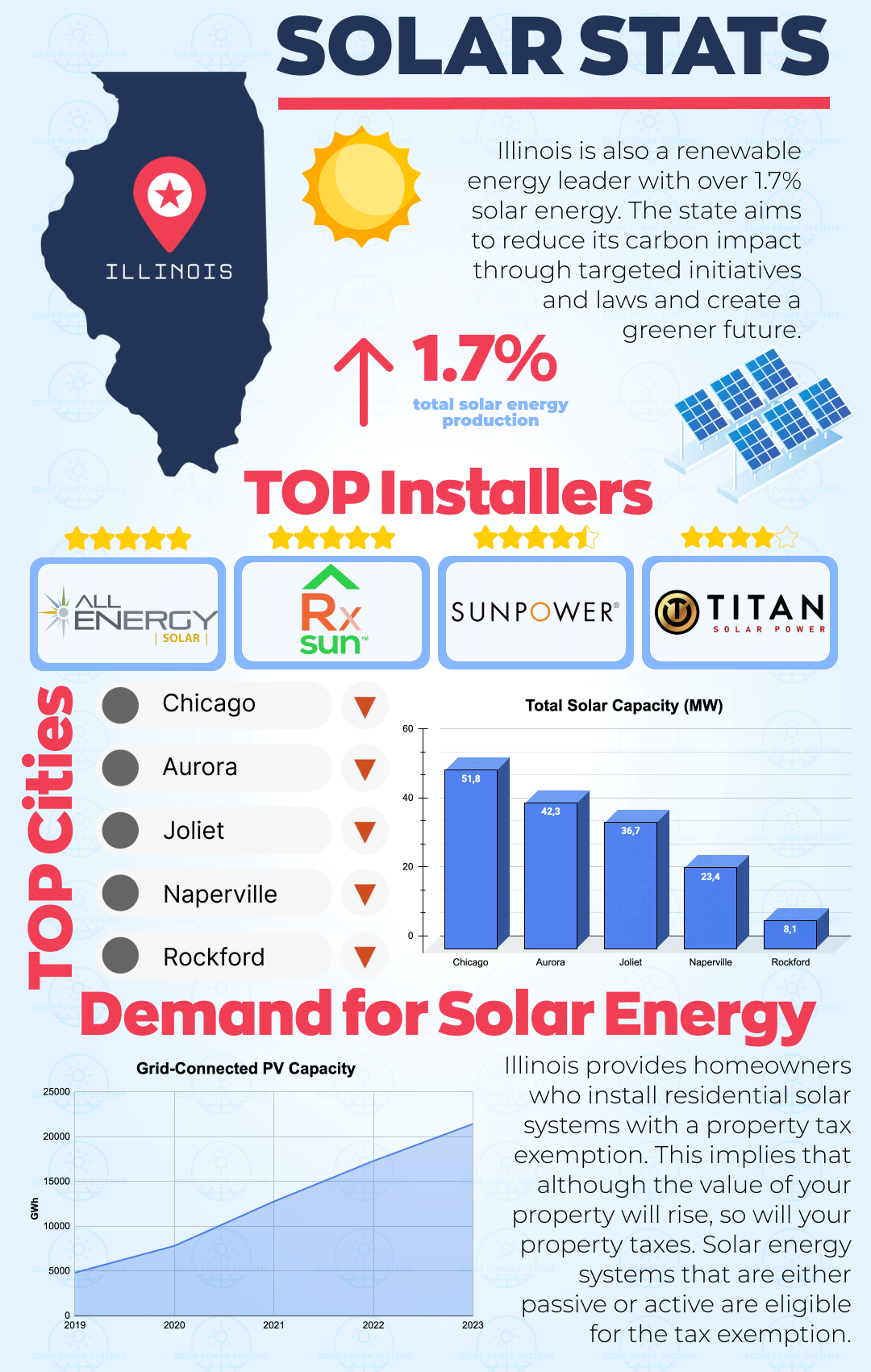 Find best solar installers in Illinois
688 High Point Ln, East Peoria Illinois, 61611

8.2 mi

1513 N Vaughn, West Peoria IL, 61615

13.3 mi

505 N Main St, Bloomington IL, 61701

23.7 mi
Average Cost of Solar Installation in Illinois by System Size
| System Size | Cash Purchase (After Tax Credit) | Financed Purchase (After Tax Credit) |
| --- | --- | --- |
| 4kW | $11,800 | $12,600 |
| 5kW | $14,300 | $15,300 |
| 6kW | $16,500 | $17,700 |
| 7kW | $18,800 | $20,100 |
| 8kW | $21,600 | $23,200 |
| 9kW | $23,900 | $25,600 |
| 10kW | $26,700 | $28,600 |
What To Look For in a Solar Installer?
1. Consider Local Laws: Be tuned in to Illinois' ever-evolving solar regulations and incentives.
2. Assess Climate Factor: Illinois' climate brims with seasonal variance, impacting the effectiveness of solar power.
3. Evaluate Installer's Credibility: Check the installer's license with the Illinois Commerce Commission (ICC).
4. ROI Potential: Illinois' Solar Renewable Energy Credit (SREC) program can improve return on investment.
5. Financial Incentives: Take advantage of state-specific tax credits and utility-backed incentives.
6. Grid Connection: Ensure that your system will adhere to the Illinois Net Metering policies.
7. Compare Installers: Illinois had over 500 solar installers in 2020, compare to get the best deal.
8. Installation Costs: In 2021, the average gross cost in Illinois stands at $3.70/Watt.
9. Check Reviews: Over 27% of the state's solar installations received a 5-star rating last year.
10. Consult Local Community Solar Programs: They boast 111 projects producing over 800,000 kW.
11. Installer Experience: Ensure they have substantial experience, with an existence of at least 5-7 years.
12. Power Production Guarantee: Get an assurance for specific power production over an agreed time.
Is It Worth Investing in Solar in Illinois?
Boosted by impressive ROI, solar energy in Illinois is an astute investment. The state's progressive policies, including Illinois' Adjustable Block Program, offer enticing solar incentives. With projections of 8-12% return, the venture is ahead of traditional investment opportunities.
The region's climate favors solar panel efficiency. Contrary to common belief, the Prairie State receives ample sunlight, supporting solar power generation. Illinois receives 4.2 hours of sunlight daily, on average.
Further, solar power installations are tax deductible. The Federal Investment Tax Credit grants a 26% tax credit for solar installations. And, the SREC market in Illinois further sweetens the deal. This scheme allows customers to sell the solar energy they produce back to the grid for credits.
Moreover, Illinois law supports net metering programs. Consequently, solar producers may even earn credit for excess power produced. This not only shrinks the payback period but also lowers the power bills.
An example of local adoption is Walmart. It plans to install solar panels on numerous outlets in Illinois, reducing energy costs substantially.
In sum, lucrative incentives, supportive policies and ample sun hours make solar power a savvy investment in Illinois.
How Solar-Friendly Is Illinois?
It soars high with its sustainable policies. Illinois ranks 17th in solar per capita nationwide, displaying its pro-solar commitment. As of 2020, 143,000 households are powered by solar energy - proof of the state's green enthusiasm.
Illinois offers multiple solar incentives for businesses and individuals. The Illinois Shines program is worth noting. This program provides lucrative financial incentives for solar adopters, significantly reducing their out-of-pocket costs.
Renewable Portfolio Standard reveals the state's ambitious eco-targets: 25% renewable energy by 2025. When it comes to regulations, the state's Future Energy Jobs Act is a game-changer. It not only promotes renewable energy but mandates local job creation.
Illinois' climate is more than suitable - with 189 sunny days annually. Research indicates that solar panels work just as well in cooler climates as in warm ones.
Perhaps the best testament is Illinois' 2020 SEIA ranking: 33rd in the country for solar, which shows the potential for growth in the sector. From stats to sunshine, Illinois remains a rising star in the solar arena.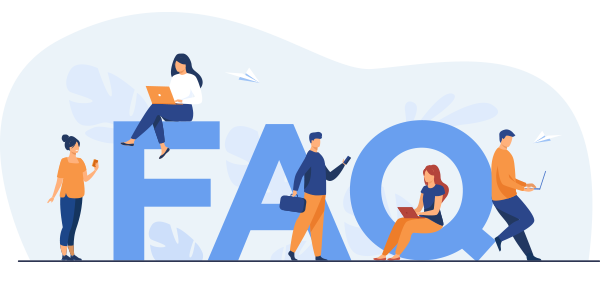 Frequently Asked Questions
What are the most important factors to consider in Illinois State?

1. Get jiggy with Illinois' Solar Energy Credits (SRECs) that provide colossal incentives.
2. Peep out your roof's orientation and angle. South-facing makes for optimal impact.
3. Consider your electricity usage. Go solar, cut costs, junk the juice bills.
4. Evaluate company reputation. Our site boldly bares transparent solar installer reviews.
5. Navigate the maze of financing options; loans, leases... solar ain't sweat.
6. Watch out for local zoning or HOA rules that might cause hiccups.
7. Understand Illinois' Net Metering policy - you'll dig the dollar-for-kilowatt exchange. Solar savvy starts here!

How do I find the most affordable solar installer in Illinois State?

Start by conducting an advanced online search. Utilize comprehensive comparison platforms for direct cost analysis. Look for certifications, indicating professional expertise. Verify customer reviews for genuine reflections on service quality. Consider long-term benefits over short-term installation price. Installers offering extended warranties could save you future costs. Don't overlook local installers, as they often provide competitive rates. Explore financing options; some companies offer innovative payment plans. Lastly, investigate any available incentives or discounts in Illinois. Knowledgeable providers can guide you towards maximizing these benefits.

Which companies did we not choose for the best in Illinois State?

Here's the scoop, folks. Not every company could make the cut. Our rankings are gold-standard, top-notch. We insist on excellence and integrity. No exceptions. Some missed out due to incomplete licensing or inadequate insurance. Others lacked customer satisfaction or reputable experience. Bottom line: our homework weeds out the mediocre. This ensures you only review cream-of-the-crop solar installers. Your trust is our mission. Real talk.