How To Pick a Solar Company in Maryland and Save Money?
1. Maryland's aggressive Renewable Portfolio Standard (RPS): The RPS mandates that 50% of Maryland's electricity to come from renewable sources by 2030, including 14.5% from solar energy.
2. Solar Investment Tax Credit (ITC): This allows you to deduct 26% of the cost of installing a solar energy system from your federal taxes.
3. Installed Prices of Solar PV Systems: According to the U.S. Department of Energy, the median installed price in Maryland is $3.35 per watt.
4. High Electricity Rates: EIA data indicates Maryland has one of the highest average retail electricity rates in the U.S., at 13.04 cents per kilowatt-hour.
5. Net Metering and SREC Policies: Maryland law allows solar customers to sell excess power back to the grid and earn Solar Renewable Energy Credits (SRECs).
6. The State's Climate: NOAA data highlights that Maryland receives an average of 4.5 hours of full sun per day, making it feasible for solar panel installations.
7. The Company's Track Record: Check the company's customer reviews, BBB rating, and the longevity in the industry.
How Much Electricity Solar Panels Generate In Maryland?
Harnessing solar power in Maryland yields impressive results. For instance, a typical residential 5kW solar system produces approximately 6,200kWh annually. Remarkably, during sunny summer months, it burgeons to about 740kWh monthly. Numbers drop to 350kWh in the winter, yet, it's sufficient for most homes.
A larger 10kW system doubles this output, compensating any additional power needs. Specifically, Annapolis residents, enjoying 213 sunny days yearly, reach peak solar productivity. Notably, Baltimore isn't far behind with 207 sunny days.
Subsequently, according to Maryland's Renewable Portfolio Standard, utilities must blanket 50% of their electricity sales via renewable resources by 2030, creating a lucrative market for solar energy. Deftly navigate regulation, geography, and climate in Maryland, and solar panels will be your ticket to considerable power savings.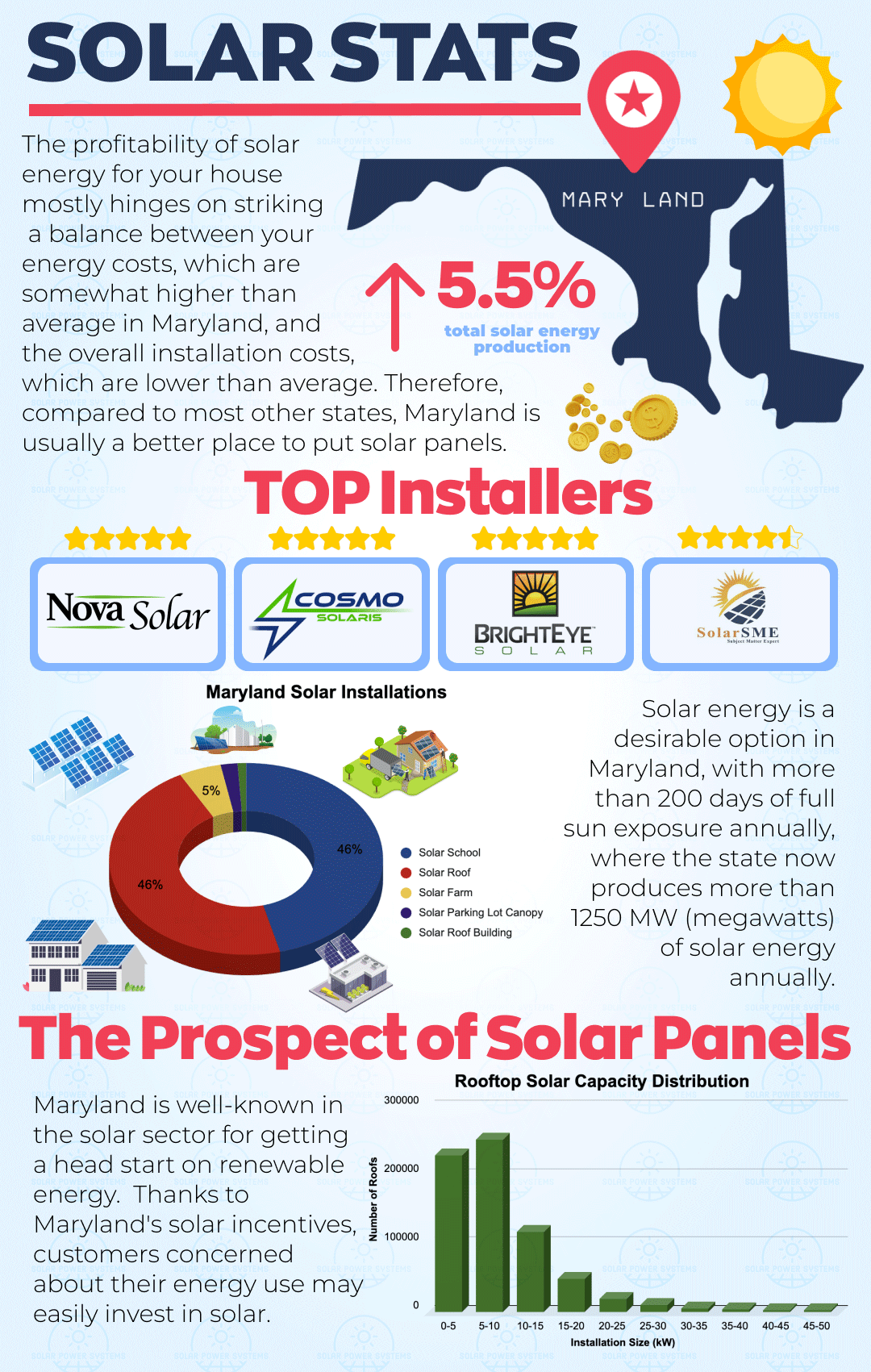 Find best solar installers in Maryland
313 Najoles Rd, Millersville MD, 21108

2.9 mi

8518 Chestnut Ave, Bowie MD, 20715

7.9 mi
Average Cost of Solar Installation in Maryland by System Size
| System Size | Cash Purchase (After tax credit) | Financed Purchase (After tax credit) |
| --- | --- | --- |
| 3kW | $9,387 | $10,042 |
| 4kW | $11,978 | $12,794 |
| 5kW | $14,250 | $15,230 |
| 6kW | $16,479 | $17,615 |
| 7kW | $18,774 | $20,067 |
| 8kW | $21,078 | $22,527 |
| 9kW | $23,362 | $24,991 |
| 10kW | $25,640 | $27,432 |
What To Look For in a Solar Installer?
1. Consider the Installer's Reputation: Maryland law mandates installers to possess active licenses. A licensed installer denotes credibility.
2. Evaluate Former Projects: Review the installer's past undertakings. Real data attests their prowess and reliability.
3. Assess Financing Options: Explore money-saving opportunities like Maryland's Residential Clean Energy Grant Program. Savings can reach up to $1,000!
4. Check Equipment Quality: Better equipment equals higher efficiency. Ensure installers use top-tier manufacturers.
5. Reflect on Maintenance Programs: A good installer offers comprehensive maintenance service. It's a must for Maryland's climate with its significant seasonal variations.
6. Count Installer's Experience: Longer service in the industry denotes higher proficiency. Experienced installers navigate regulations seamlessly.
7. Ponder Warranties: Maryland law obligates a minimum 10-year warranty. But stellar companies offer up to 25 years.
8. Transparency is Key: A candid installer discloses full contract details upfront. It shields from unforeseen costs or dramas.
9. Eye Installation Speed: Top installers streamline the process, needing only 1-3 days for installation.
10. Review Proposals: Secure multiple quotes to ascertain the most cost-effective option. Maryland's solar market is competitive!
Armed with valid data, Maryland residents can find the best local solar installer for their sustainable energy journey.
Is It Worth Investing in Solar in Maryland?
Absolutely, investing in solar power in Maryland is a savvy move. Maryland's solar market is majorly booming. More than 94,328 homes were powered by solar energy in 2019. Impressive, right? As per Maryland's state law, the renewable portfolio standard mandates 50% renewable power by 2030. This power escalation augments investment potential.
Maryland's geographical location is an added boon. Its annual average solar radiation is 4.5 kWh/m2/day. That's galore sun for substantial power production. Consider this piece of data - an average solar panel system of 5KW in MD produces around 6,200 kWh per year!
Did you know Maryland has aggressive solar carve-outs? By 2022, 2.5% of electricity in MD needs to originate from solar. Investment chances look promising, you bet!
This isn't all yet. Maryland offers a residential clean energy grant program, actively promoting solar energy. Homeowners can receive a $1,000 grant for residential solar power investment. Quite an incentive, right?
Tempting tax breaks also sweeten the deal. For example, a 30% federal investment tax credit is available to solar investors.
So, the argument is brightly clear. Solar energy is a winning bet in Maryland. Facts, stats, laws and sun - all favor solar investment here.
How Solar-Friendly Is Maryland?
Maryland stands tall in the solar arena. Blessed with ample sunshine, the state's solar index hits 3.77 kWh/m2/day. This factor, significantly above the national average, ensures optimal solar panel productivity. The state government is pro-solar too - their progressive regulations incentivize going solar. Per current laws, Maryland's Renewable Portfolio Standard (RPS) requires utilities to source 50% of their electricity from renewable energy by 2030. This ambitious target nudges solar panel adoption.
Green Energy Tax credits further sweeten the deal. They shave off impressive amounts from installation costs by offering lump-sum incentives. For example, Residential Clean Energy Grant Program provides $1,000 per installed system.
Net-metering regulation deserves mention too. It allows solar producers to sell excess power to the grid. They earn credits, reducing their electricity bills.
Coupled with projected 4.7% annual residential electricity rate hikes, solar offers solid financial savings. Already, 56,000 Maryland homes run on sun power. The state flaunts 893.56 MW of solar capacity.
Thus, Maryland's climatic advantages, supportive legislation, and monetary benefits galvanize its solar-friendly stature. Solar power isn't just an eco-conscious choice here - it's a savvy investment.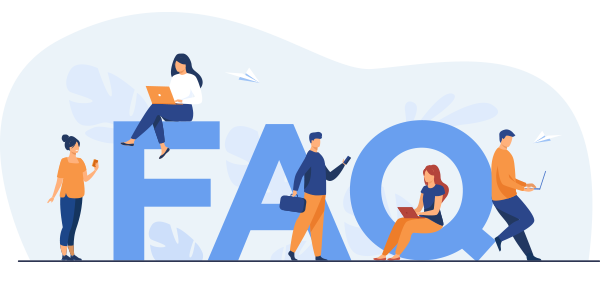 Frequently Asked Questions
What are the most important factors to consider in Maryland State?

Dive into the Maryland solar journey considering the Sun Hours. You'll need optimal sunlight. Consider the Roof's Age & Condition. A lagging lid? Not groovy! Obtain an Energy Audit. Your power usage matters; no sweat, no sweet! Understand the Net Metering Policy; the holiest of holy-solar-grails. Climate futureproofs your solar investment, make it rain sunshine! Seek Multiple Quotes. Explore your options, save those greenbacks! Check Installer Reviews. No rookies, go for the dazzling dudes! Lastly, study Homeowner's Association Rules. All aboard or hit the road Jack. Harness the sun, folks! It's time to glow-up in Maryland.

How do I find the most affordable solar installer in Maryland State?

Leverage the power of online search. Engage with review sites or solar forums. Utilize comparison tools for quotes. Visit social media channels for user experiences. Attend local Solar expos. Engaging in these steps ensures your procurement of a cost-effective solar solution in Maryland. Deep research brings noteworthy cost reduction. Remember, never trade-off quality for price. An efficient system retains longevity, ensuring profitable investment. Trust your due diligence, go solar in Maryland.

Which companies did we not choose for the best in Maryland State?

Our ranking champions transparency, excellence, and customer satisfaction. Some outfits didn't meet these core criteria. Despite having operational presence, they fell short in performance metrics. Their customer reviews were unsatisfactory or lacked volume. Others failed in offering competitive pricing or lacked a solid reputation. Certain firms lacked essential licensing or certification. That's why some players couldn't clinch a position in our powerful ranking line-up. Factoring out these under-performers ensures our users get the cream of Maryland's solar industry crop.