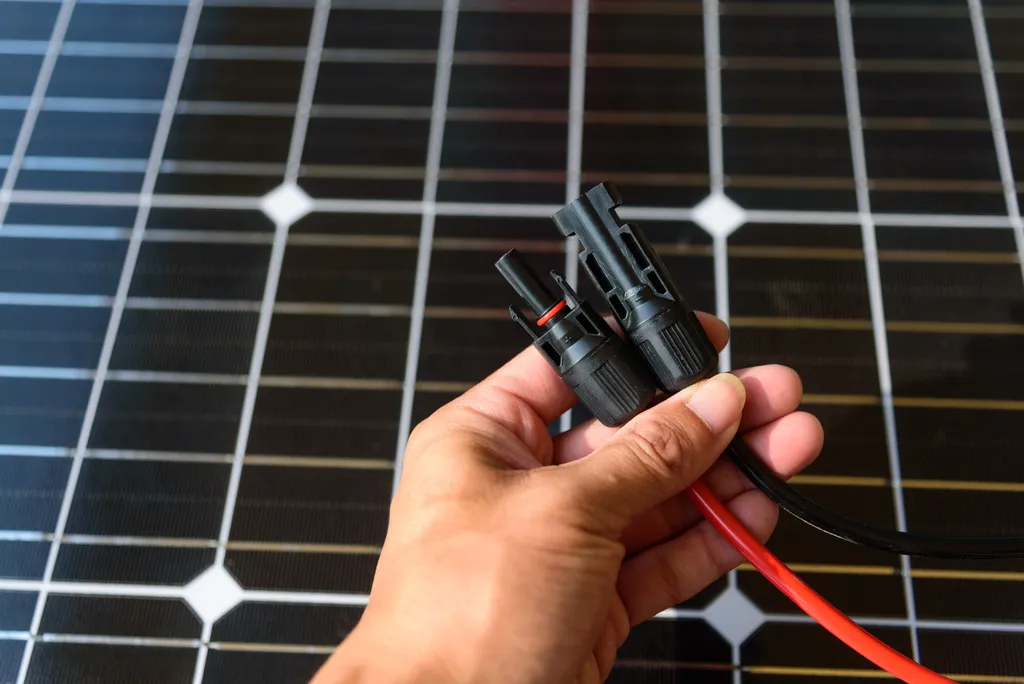 In any device, the main thing is only the device itself, its functionality, the quality of materials, and the "brain." But it is not so. If the system's connection between its parts and third-party devices is incorrect, all its technical characteristics will be of no value, and the device won't work. In the early 2000s, for instance, it was common practice to directly connect solar panels, which eventually led to system failure and wire corrosion.
Most solar panels have more than a hundred connectors, and improperly connecting even a single one of them can render $20,000 worth of equipment useless. Let's talk about solar panel connectors and the distinctions between them so that the system works as intended and no wiring mistakes are made.
How Are Solar Panel Connectors Used?
Solar wiring connectors are a small but very important part of a solar energy system. With their help, you can connect panels and supplement them with an inverter or power optimizer. With their use, you get a single, well-coordinated mechanism for supplying the house with solar energy. Previously, manually attaching all the cables to the differently charged connections was tedious. The installation of a solar wire connector helped solve this problem. And although the manual configuration is still in use, using connectors is a more reliable and faster way to connect.
There are MC4 connectors solar, T4, MC3, and many others, but they are less used.
Many panels have universal connectors. Their total number may exceed 100 pieces and are most often compatible with MC4.
And now, let's find out all the necessary information about each solar panel connector.
Let's start with a comparison table:
| | | | | | | |
| --- | --- | --- | --- | --- | --- | --- |
| | МС4 | Amphenol | Tyco | T4 | МС3 | Radox |
| Cable cross-section (mm 2 ) | 2.5 – 10 | 2.5 – 6 | 4 – 6 | 2.5 – 6 | 2.5 – 10 | 4 – 6 |
| Contact material | Tinned copper | Tinned copper | Tinned copper | Tinned copper | Tinned copper | Tinned brass |
| Rated current | 39 – 104А | 15 – 45А | 20 – 30А | 32A | 20 – 43А | 38А |
| Max. Voltage | 1000 В | 1500 В | 1500 В | 1500 В | 1000 В | 1000 В |
| IP index | IP65 | IP68 | IP65 | IP68 | IP68 | IP68 |
| Max. Temperature | 105ºC | 120ºC | – | 90ºC | 105ºC | 85ºC |
| Safety class | II | II | II | II | II | II |
| Security mechanism | Plug lock | Plug lock | Plug lock | Plug lock | Absent | Twist lock |
| Lock/Unlock Tool | Required | Required | Required | Required | Required | Not needed |
| Crimping Tools | Rennsteig Pro-Kit (MC3, MC4, Tyco) and crimping tool MC4 | Rennsteig Helios H4 and Amphenol crimping tool | Rennsteig Pro-Kit (MC3, MC4, Tyco) and crimping tool Tyco Solarlok | T4 | Rennsteig Pro-Kit (MC3, MC4, Tyco) | Radox |
What Are the Most Common Types of Solar Connectors Used in the Solar Industry?
МС4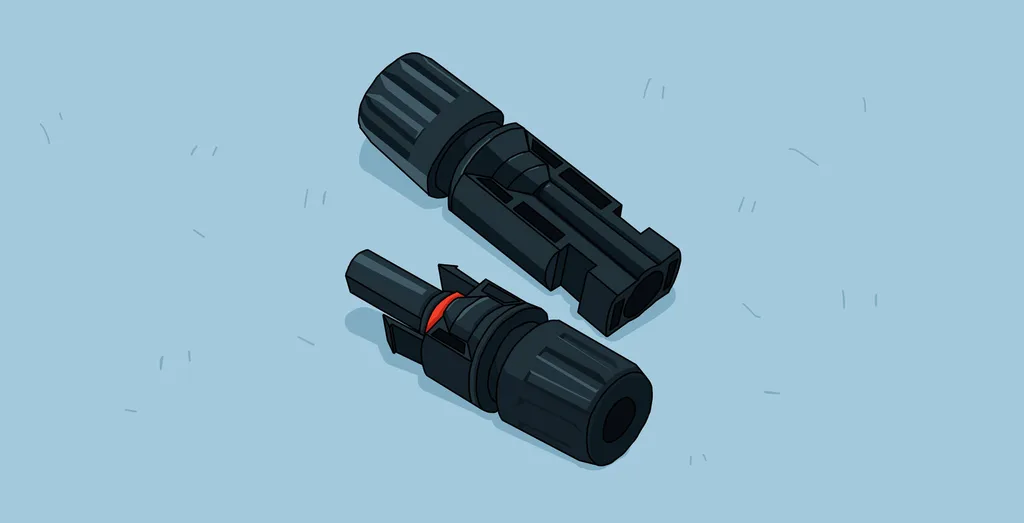 Source: a1solarstore.com
Multi-contact (MC) are easy to use and the world's best-known solar panel connectors. The material used to make them has the following characteristics: moisture resistance, temperature, ultraviolet protection, high current support, and IP67 protection.
In addition, it is possible to use it repeatedly and connect various cables of other diameters to the system. MC4 connector for solar panels has a locking system, which guarantees increased reliability. In other words, when connecting, it is not necessary to use additional tools, and when disconnecting, it is essential to use the appropriate device.
It simplifies the installation process of the station. Solar panel MC4 connector inputs are available on many modern inverters, and they also terminate the cables of solar panels. Various parts, including microinverters and power optimizers, now come with this connection.
Please note that the MC4 solar panel connector complies with all Underwriters Laboratories safety standards and the National Electrical Code, and the state regulates the latter's rules.
The name decoding is the following:
MC – Multi-Contact – the name of the trademark

4 – a contact font with a diameter of 4 mm. The connector has two connectors – male and female.
When working with him, you must adhere to strict rules. For example, always try to insert solar panel cables and connectors with the right diameter. Optimal for him are wires of 4 and 6 mm.
On top of that, it's better to find the label or read the instructions to install MC4 connectors for solar panels. But most often, the outlet should be connected to the positive wire.
MC3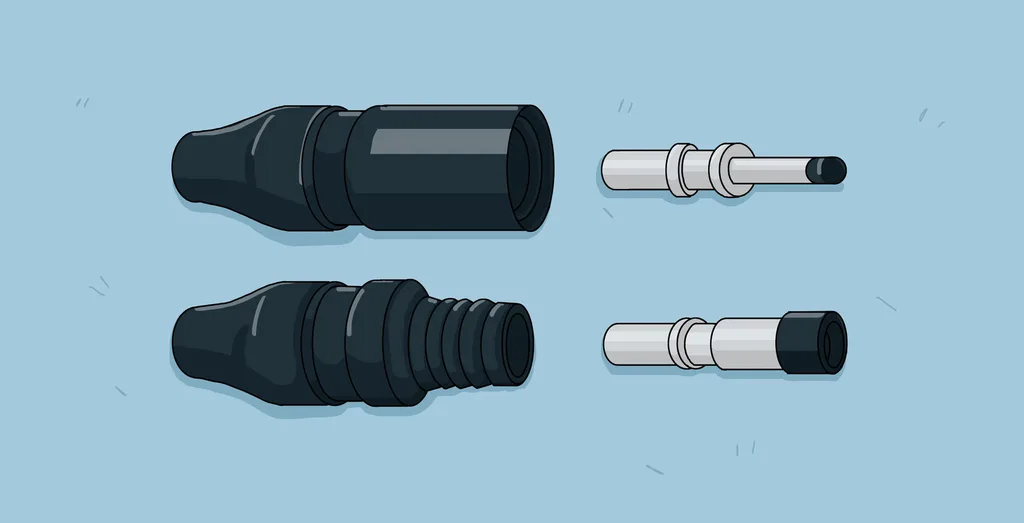 Source: a1solarstore.com
Before solar panel MC4 connectors were part of almost all installations, it was MC3 that came with every system kit. It has a 3mm cylindrical solar panel plug. The female and male pins work the same way as the MC4 – on the positive and negative terminals. That simplifies the installation process and the risk of making mistakes.
The complete obsolescence followed huge popularity. After the introduction of the requirement from NEC for the mandatory presence of a locking system on all connectors, only older systems and isolated regions use the MC3.
T4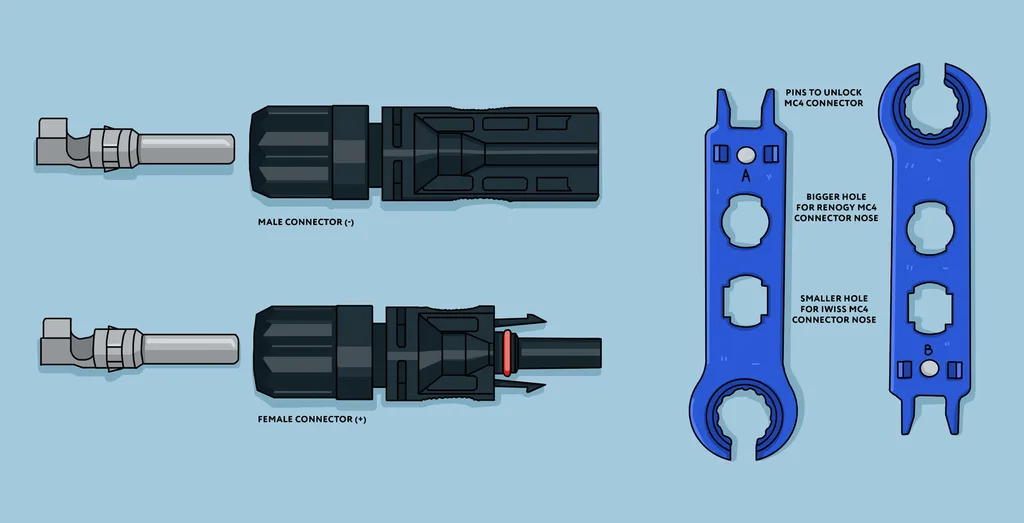 Source: a1solarstore.com
Tlian has developed a T4 connector similar to the MC4. It has protection from dust and moisture, meets many standards, and has a locking system. The item is easy to install, but it only fits some connectors. Recently, it has undergone many modifications, ensuring high reliability and durability.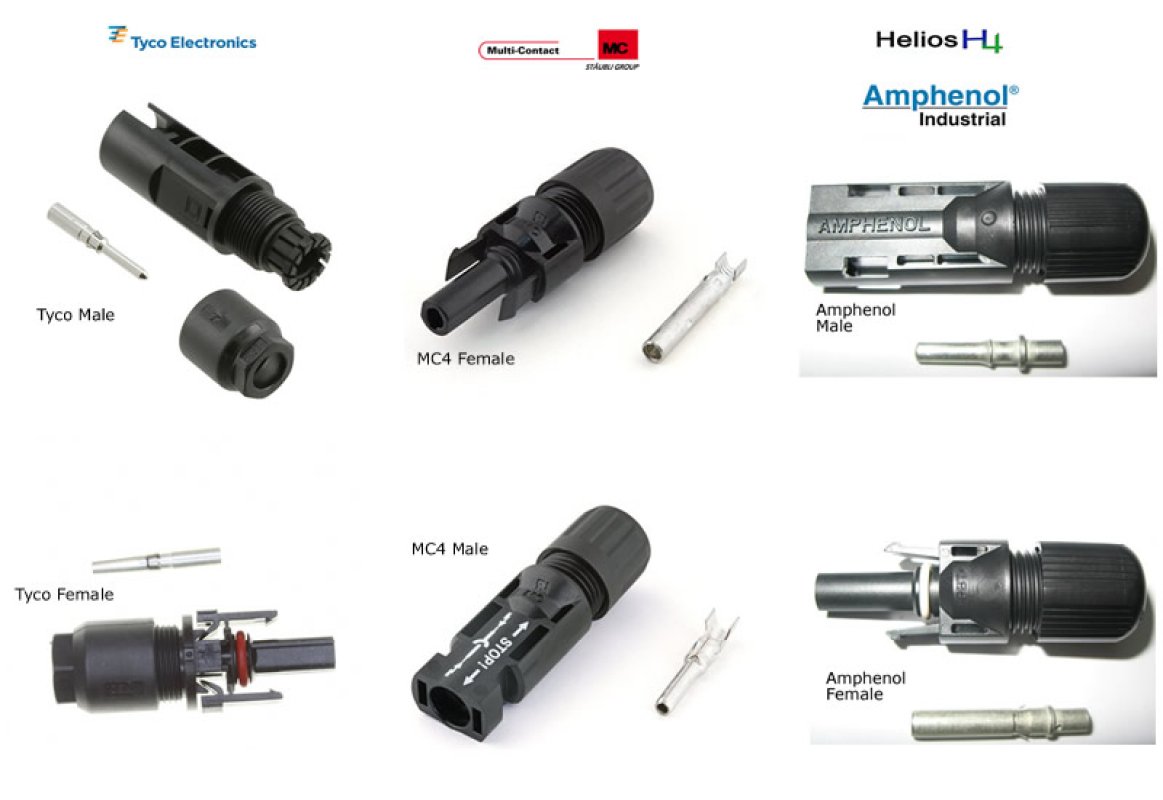 Source: www.greentechrenewables.com
Amphenol, Tyco, and Radox
Amphenol offers its Helios H4 connector type, a great alternative to MC4 solar panel connector. It fully complies with NEC regulations and is easy to install. But to work with it, you'll need to unlock the assembly tool.
Tyco has manufactured several types of connectors. The first SolarLok appeared in 2000 and was used for the series and parallel connection of solar systems. The part has UL and TÜV certifications but is obsolete.
Radox from Huber+Suhner has a 15-year quality guarantee. For optimal current flow, the part has copper-beryllium contacts. In the USA, the detail is rarely used but is convenient for installing solar systems. Radox still needs to get certifications in the United States as it is made in Europe.
Considering the Many Types of Solar Panel Connections
There is a significant demand for reasonably priced solar panel connectors. Yet, many of them are useless since they are outdated, have numerous drawbacks, or both. All potential problems must be eliminated by adhering to the most recent National Electrical Code standards.
MC3 and T4 connectors were the first used in solar panels. In widespread use, they address several issues related to the direct connection of solar panels. But, they brought a new issue: unlocking under light loads. For example, if a single wire in the solar panel system were to become disconnected, the entire system would immediately cease to function. Installers and panel owners are legally required to only work with interlocked yet simple-to-connect solar panel wiring connectors.
Connectors for the MC4 sun connector are standard on newly manufactured solar systems. As a result, you may simply connect all connectors of this type without worrying about standards and codes. Nonetheless, vintage panels, both new and used, do occasionally surface. Hence, you should give some thought to how to pick the ideal alternative.
The Significance of Selecting the Proper Solar Panel Connection
If you choose the wrong solar panel wire connectors, there is a risk that the solar panel or the part connected to the connector will not work correctly. It can also cause the system to wear out quickly or break down.
Installing optimally matched solar connector types will allow you to forget the need for frequent maintenance and replacement of connectors. You may never have to change seemingly unreliable parts. And they will last the entire life of the solar panel while ensuring the efficient operation of the whole system.
If the voltage in the house does not exceed 600 V, then most of the available connectors will play a long service. But if you want to get the most reliable type of fastening, it is better to opt for the MC4-type solar panel connector. It has a lock, so there is no risk of accidental disconnection during the panel connection.
It will be the least trouble with it, as it can work in any weather conditions. All its properties undergo constant practical testing. That is, there will be no difficulty with both installation and the service. In addition, MC4 solar panel connectors have constantly become improved and better.
And although MC4 is the standard, it's only sometimes suitable as a connector, so installers still use other connectors. For example, MS3, Tyco, T4, and others. They can also help you if you want to install everything yourself.
To make the right choice between all solar panel connector types, you should consider the following characteristics:
maximum allowable voltage;

maximum allowable temperature;

contact resistance;

contact material;

penetration protection index (IP);

security class;

wire section.
It would be best if you also considered the rules of the National Electrical Code and other requirements.
For example, MC3 has excellent temperature resistance and reliable performance. But the lack of a locking system no longer satisfies the NEC installation rules. And the problem with other types of solar panel connections was that they often didn't fit with the system wires and needed a crimping tool to press them. But the MC4 still has great alternatives. Huber + Suhner and Amphenol presented their connectors with a locking system and other excellent features. They say that Amphenol and MC4 are interchangeable parts.
An Overview of the Most Significant Solar Panel Connectors in History
The most significant solar panel electrical connectors in history are MC3 and MC4.
MS3 appeared in the 50s of the last century. They were used in connecting panels and their parts, but only sometimes. A triple at the end means that the internal pin of the connector is 3mm2. And although this type of fastening was the most popular, due to the unreliability of the fastening, not all installers used it.
MC4 appeared in 2004 and became an improved version of MC3 with reliable blocking. Today this solar panel cable connector is the absolute standard in the solar industry.
Conclusion
Despite the abundance of types of solar panel connectors on the market, today, the MC4 solar panel is a universal standard. It complies with all NEC regulations in all states and ensures system stability and safety. But if you have to choose a different connector for an old solar system version or a model not adapted to this type, first evaluate all the characteristics. Use the information provided in the article to select the optimal solar connector for your case.
Frequently Asked Questions
What exactly is a solar panel connector?
The solar panel connector is one of the most underrated parts of the solar system. A small connector joins the solar panel to an electrical device or system. The solar connector stands between the solar installation and the junction box.
Their main function is to ensure a stable and continuous connection of parts for the operation of the entire solar energy system. They also provide a safe flow of energy and electrical power, and the latter can only be interrupted if the current supply is interrupted or the part is removed.
Although there are several types of solar panel quick connectors, the most popular and reliable of them is still solar panel connectors MC4.
Why are connectors for solar panels so crucial in solar PV systems?
Such a small and unremarkable detail as solar panel cable connectors is extremely important. They allow you to quickly connect all the elements to the solar system and the panels. Solar wire connectors provide a secure fit despite their tiny size. In addition, they have other important tasks for the solar panel:
– electric arc reduction to guarantee safety;
– proper docking of all wires for durability;
– removal of electrical resistance to reduce hot spots and prevent overheating of cables;
– tight connection at all points to minimize the downside risk of fire.
As you can see, solar cable connectors are essential for your solar panel.