The use of renewable energy is an actual solution today. But everyone thinking about buying a home solar power plant is often interested in more than preserving the environment but in their savings. And rightly so because it is great when what is good for the environment also benefits your bank accounts. Let's consider whether solar panels for houses provide an opportunity to save money and how to make them even more profitable.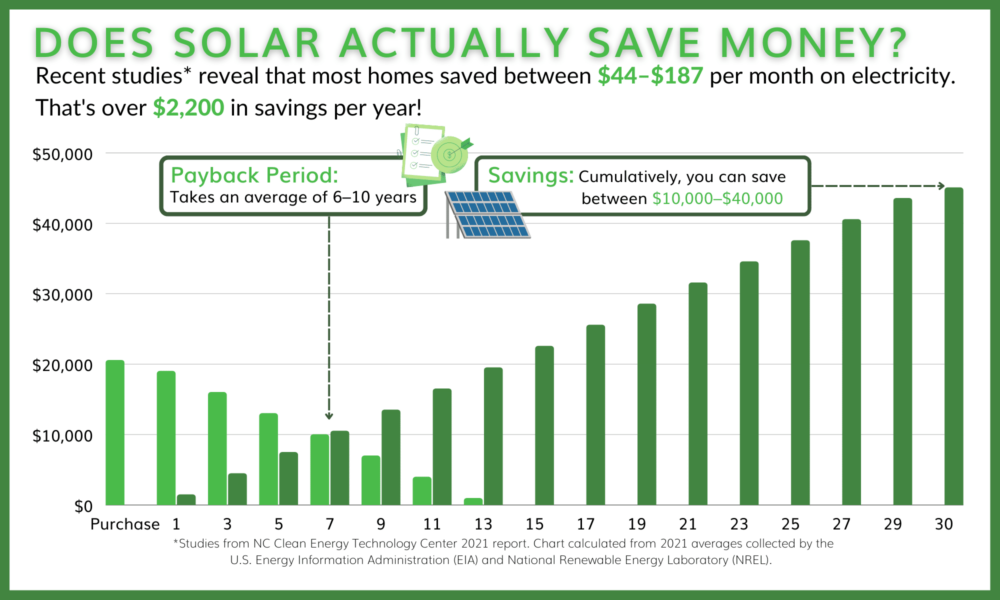 Source: MarketWatch
Can I Install Solar Panels on My Roof?
Alas, only some buildings allow you to install residential solar panels in such a quantity that they pay off and begin to bring benefits.
The roof is the optimal location for residential solar panels. Usually, it has a fairly large area, is a little darkened, and is not used for another purpose. In addition to the house, you can consider the roofs of sheds, garages, and outbuildings. To choose the best place to install roof solar panels, you need to analyze the following parameters:
Roof covering material: Metal, metal tile, tile, bitumen, etc. In principle, the coating does not matter, but if you have shingles in good condition, this is a big plus for solar panels on rooftops.
Design of the roof: It is also not a particularly fundamental issue. A good installer will choose a mounting method for any roof, and the rooftop solar construction of individual panels makes it possible to bypass dormer windows, ledges, chimneys, etc.
Roof's slope: It is a more important issue; the angle should be 15 to 40 degrees. Experienced installers of solar panels for a house can create the right angle with the right base design.
Panel's orientation: This question is already a matter of principle, especially regarding the Northern States. Solar panels for homes should be installed on the south side, which gets the most sunlight.
Another important factor is the condition of the roof. If the house is new, then there should be no problems, but if the ceiling is old and worn, it will need to be repaired and strengthened.
Is It Better to Lease or Buy Solar Panels?
There are three differences between buying and renting rooftop solar panels. Let's dwell on each of them in more detail.
Who Is the Owner of the Solar Battery?
If you buy a solar panel with your own money or on credit, you are the owner; you get all the benefits of using solar energy. But all the problems, such as maintenance, cleaning, and repair in case of breakdown, also fall on your shoulders.
If you rent a solar panel for your home, it does not belong to you. You cannot count on the benefits and incentives that the state provides to the owner. But you should not worry about the state of the device. Installation, maintenance, and repairs are the responsibility of the owner.
Who Owns the Generated Solar Energy?
If you bought a battery, the rooftop solar power belongs exclusively to you.
If you rent solar panels for the house, there are two possible scenarios depending on the type of your contract:
Rent with a fixed monthly payment: In this case, you pay the company a payment set in the contract, and everything the batteries generate belongs to you.
Purchase and sale agreement: In this case, you buy the energy generated by your solar energy panels for the home and from their owners but do not pay a fixed fee. In other words, the energy from your roof does not belong to you.
Different companies offer either or both of these options. But identifying which one suits you best requires a consultation with a specialist.
How Rent and Ownership Affect the Sale of a House
Solar panels house is sold faster and more expensive if the homeowner owns the panels. A house with rented panels can also be sold profitably, but this process is long and complicated.
Therefore, the solar panels on homes – in case the house owner owns them – are much more profitable.
How Many Solar Panels Do I Need?
This issue is within the competence of a company that sells and installs solar panels in your area. Let's give an example of approximate calculations. To understand how many solar panels for your purposes you need, you will need the following data:
Average annual energy consumption of your household.
Energy consumption during peak hours.
Your climatic conditions (intensity of sunlight, number of sunny days per year, etc.).
Power of solar panel for house roof and size of solar panels or thin film.
The last 2 points are relevant if you have already decided which solar panels on homes you will install. If not, you need the advice of a competent specialist. Let's give an example of an approximate calculation. At a rough estimate, you would need 17 370W panels or 42 150W solar panels for the house to cover an average consumption of 11,000 kWh per year.
But these are very approximate values that do not incorporate climate conditions, the house's location, the shade of the roof, etc. More precisely, only a professional can calculate after inspecting the object.
Should I Hire a Regional Contractor or a Large Solar Company?
When you decide to use residential solar power, the first thing to do is to determine a good provider and installation company.
In this case, you'll have two options: contacting a large national service provider or choosing a small local company. Therefore, it's crucial to find answers to certain questions.
Who Can Install a Roof Solar Panel Cheaper for Me?
The study showed that in 70% of cases, large national companies offer higher prices for solar home panels than small local providers. Most often, this is due to the pricing policy of the company, responsibility to shareholders, and complex pricing. While small companies operating at the local level are not mired in such bureaucratic problems. Therefore, their price, in most cases, is distinguished by a large benefit.
Who Will Offer a Better Installation?
On the one hand, national companies have more projects, and large-scale companies work both with private orders and install commercial rooftop solar systems. Large-scale providers have modern equipment and professional staff. But what's the guarantee that you'll get everything you need?
Large companies have a central office and representative offices in different regions. But this only sometime means that the regional branch has its team of installers of solar cells. Most often, all such firms use contractors, those small local companies. You might end up paying more for installing solar panels on a house than you would if hired directly for less money. While we do not claim that's always the case, the likelihood is very high.
Who Offers Rental, and Who Offers Installation?
Local companies often offer to buy and install solar panels on the house roof. Large national companies can offer profitable rental options or a solar power residential sale and purchase agreement.
Naturally, it's up to you to choose, but any independent expert will advise you to collect as much information as possible on different companies. Read reviews on the Internet, consult with the owner of a solar panel house nearby, and only then make a decision.
What More Should I Do To Control How Much Energy I Use?
If, for one reason or another, you cannot buy or rent solar paneling for homes that will cover your consumption, you should know how to reduce the cost.
Household appliances: It is necessary to turn off appliances from the network when you do not use them; choose devices with a high energy efficiency class.
Heating: insulating the roof and walls will help reduce the cost of heating the house with electricity from the solar on rooftops, make sure that all windows are closed tightly, and use the air conditioner wisely.
Electric vehicles: If you need to go to the store a few blocks from home, walk, or bike, you can charge your car at public stations more often.
Hot water: Saving hot water usage saves hundreds of dollars in annual electricity bills.
These tips will be useful to everyone, but those who have a solar-power house, especially.
Do I Have a Good Solar Deal?
It should be said right away that all solar deals are profitable. Another thing is what you expect from their use. For the most part, people who have wisely chosen the solar panel rooftop provider themselves are very satisfied with their solar system. In what cases does the system not live up to your expectations?
Your Region
A list of 10 states, created by the data analysis website Stacker, is considered the sunniest and gives the best indicators for using solar power for the home. These include Arizona, California, Colorado, Florida, Kansas, Nevada, New Mexico, Oklahoma, Texas, and Utah. In these regions of the United States, installing solar systems is more than justified. True, you need to look at every house.
Benefits at the Local and Federal Level
There is a general national program under which everyone who installs rooftop solar panels for their home can count on a 30% discount on their purchase and installation. But each state also has its program. Therefore, if you want to install solar panels for the most profitable, find out about discounts and benefits in your area.
Correctly Calculate Energy Consumption
We have already talked about how to calculate the number of panels approximately. But you should also calculate the station's total capacity, covering your needs. To do this, you need to know the average consumption, consumption during peak hours, and some other parameters. Only a correctly calculated rooftop solar system will give the expected result.
How Long Will It Take Me To Recoup My Investment in Solar Energy?
Each station has its calculations. But you can approximately calculate the system's payback even before its installation. For example, you have already chosen a system with the help of a specialist and know exactly its cost with installation. Besides, consider your benefits, both national and local. Ultimately, you should get the exact amount that a rooftop solar panel for a home will cost you.
Suppose your system will cost around $18,000. The next step is to know your consumption. Let's say you collected all the checks for a year, or better for two, and discovered that your family spent $ 2.5 thousand on electricity bills annually.
Then, you need to calculate that with the same consumption, the solar panel on the house for 18 thousand dollars will pay off in 7 years and 2 months. In such calculations, deviations are always possible because you can consume more or less energy in subsequent years.
Should I Also Get a Battery?
You can buy solar panels with battery systems for installation, which is often more profitable.  For example, here's an approximate average price – a system with a battery costs 25 thousand dollars. All equipment is selected according to the optimal parameter, ordered from one supplier, and connected simultaneously. In addition, these systems have great deals in some states because battery systems are more independent of external power sources.
As an alternative, you can buy the battery separately for $12,000. If you purchased it later, you must install it separately and connect it to the solar house panels. However, in some states, you will lose the benefit.
Check with solar companies to see if a battery is included in your system or needs to be purchased and installed separately. Also, it would be reasonable to inquire about the guarantee for this equipment, the manufacturer, and its technical characteristics.
What Should I Anticipate Happening Upon Installation?
What you will do after installing solar panels on the roof directly depends on what you will observe.
Make the Most of Your Sundial
You know that the sun is brightest in your area from noon to 3 pm. It means that at this time, your rooftop solar panels for homes will generate the maximum amount of clean energy. At this time, you can set the timer for the air conditioner and dishwasher and, if possible, turn on the pool pump. During these hours, charging an electric car, phone, and other devices is best.
Simpy put, plan the greatest energy consumption for the sundial, and then in the evening, its consumption from the battery or the network will be reduced to a minimum.
Check Your Electricity Bill
You should expect the bill to be zero if an insufficiently powerful solar panel on the roof is installed. Also, your household may think that all energy is free and stop saving it. However, the solar system takes some getting used to. We are sure that electricity bills from utilities will begin to please you after a couple of months.
Solar panels roof fits perfectly into both the exterior of the house and your savings. Ultimately, if you decide to install it, you won't regret it.