Mobile solar panels have become much cheaper (and therefore more affordable) and are increasingly used in motorhomes, trailers, and even camping. After all, why sit without electricity in a cold tent (car, house) when you can have energy from nothing and calmly electric power stoves, light bulbs, grills, and telephones with it?
However, before buying, you need to calculate everything exactly — whether you need them at all, how to choose the optimal solar panel for camping, how much money it can take, and other equally important aspects. You will find detailed answers to all these questions in our article.
What To Take Into Account When Purchasing a Solar Panel for
Camping
Buying the best camping solar panel is a big investment, and getting as much information as possible about them is advisable before turning to specialist shops or companies.
Solar panels for camping work quite simply – they absorb the sun's rays and accumulate energy in the cells. When connected to a solar panel system using a portable power station, the energy converts into electricity, powering your devices. Energy can be stored in a solar generator until needed.
Before buying them, you must accurately calculate the estimated electricity needs of the campsite. This is the only way to check how much solar panel power you should aim for. It may be sufficient for a less productive panel (which can be bought many times cheaper), or the kit 2x150W will still be small.
You should start calculating the power consumption by looking for information about the power of all devices or the current they consume. It is specified in watts [W] or amperes [A or mA]. The next step is to sum up the power of all the devices you will connect to the power source (each stove, music speaker, etc.). It is important to add the power of everything that you will connect to solar panels for camping trailers to 12V.
Then calculate, on average, how long each device will be in use. For example, your phone charger draws 2A, and the smartphone charging time is +/- 6 hours daily. By multiplying the intensity of the current drawn by the operating time in hours, you can get information about the daily energy consumption of amps per hour. If you use only this smartphone charger, your daily electricity requirement will be 2 Ah.
Thus, a minimum of low-capacity camping trailer solar panels will be sufficient. However, two things should be kept in mind:
The battery must not be discharged below a certain level.

The sun does not shine always shine – in the worst case, a

small portable solar panel

should last several days of use according to our energy needs.
So choose a solar panel for travel that meets both requirements. Therefore, we can assume the battery should be at least 1.5-3 times larger than our daily electricity requirement.
Also, consider where portable solar panels for camping will be located to get the optimal amount of sunlight without obstructions. If you are installing a fixed unit on the roof of your van or near a tent on a hot summer day, be sure to consider the performance of a small solar panel for camping at high roof temperatures, as some perform better than others in extreme heat.
Find out how well portable solar panel kits for RV works in cloudy weather and sunny weather. Some holidaymakers may be interested in winter use.
Suppose you plan to connect the best portable solar panel for camping to your leisure gadgets battery. In that case, you may need to check if any special adapters are necessary or if all the required ports are already built into the case.
You may also need an inverter to convert the direct current (DC) portable solar panel for camping to alternating current (AC) for use with three-pin sockets and household appliances.
How Much Are Camping Solar Panels?
Another popular question regarding personal solar panels is how much they cost.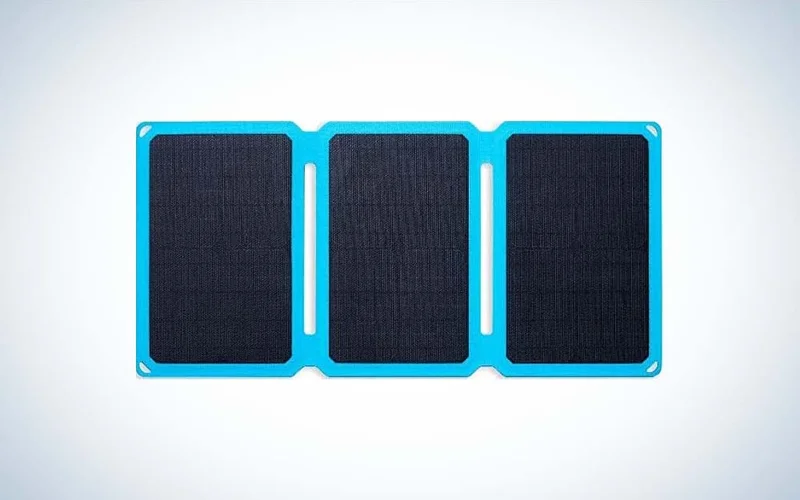 Source: OutdoorLife
Acquisition of camping solar panels is quite expensive financially. It is difficult to calculate exactly how much the best portable solar panel costs – it is affected by size, materials, quality, and the manufacturer's company.
Only the seller you have chosen will tell you the exact prices. However, you should not save money if you still decide to invest in a foldable solar panel — you should always prefer high-quality, albeit often more expensive models.
When placing an order, keep in mind that certificates guaranteeing the quality of the materials used and the longer life of the panels must be present without fail.
Which Solar Panel Size Is Ideal for Camping?
The correct size of the best solar panel for camping can be difficult to find for beginners, but it's not that difficult.
First, you must somehow move the camping solar panel kit you ordered. If you go camping in a car, they must fit at least somewhere: in the trunk, the front seat, or tied to the top of the roof. If you are traveling as light as possible with a fairly heavy camping solar panel, choose the smallest size that will fit in your backpack or bag.
Secondly, consider where you will install them. Again, if this is the roof of a car, you can take a larger model.
Can a Battery Be Overcharged by a Solar Panel?
One of the most asked questions about the best portable solar panels for camping is, "would my appliances explode when saturated with electricity?"
The answer is quite simple — no.
Currently, two types of charge controllers are used for weatherproof solar panels in the market — PWM and MPPT. This important element that ensures the correct way to charge your battery and protects it from overcharging. Properly connecting to the battery through the regulator protects it from excessive discharge.
On the market, the PWM controller is the basic type of controller, and its more advanced, improved, and more expensive counterpart is the MPPT controller. The MPPT controller allows you to monitor the MPP maximum power point, and this is the I-V point of the modules where they produce the most power.
In simpler terms, MPPT regulators can generate more current and charge the battery faster than simpler PWM regulators. The difference in efficiency is approximately 10%-30% depending on the model taken.
Power, Charging Ports, and Accessory
The power mechanism is quite simple. In the best solar panels for camping, the top layer, covered with special elements, generates electricity using sunlight. Solar radiation is considered an inexhaustible and renewable energy source and can effectively recharge all the appliances you use. You do not need any fuel to produce electricity, so the production is completely environmentally friendly. This system requires only two components to operate effectively: a waterproof solar panel and an inverter.
Placed portable solar panels for camping, mostly on the roof of cars or trailers, which are often taken with them to camping, and can generate electricity with enough sunlight. The more power you require, the more waterproof solar panel you need. Both portable solar panels for home and camping models should be placed in the same way to get as much sunlight as possible.
The inverter allows you to use the stored energy as normal electricity. The inverter is a box placed nearby with storage elements into which the cables from the hiking solar panel lead. There can also be a single cable from the inverter that goes to the home switchboard or any other similar device in the case of camping.
Other accessories that you can use for the folding solar panel include a battery or reservoir. This accessory is a storage device you can use when you have excess stored energy.
Thin-film Versus Monocrystalline and Polycrystalline Solar Panels
There are 3 types of camping world solar panels on the market, each with slightly different characteristics. They differ not only in performance but also in the ability to convert light energy. The location of the camping site also influences which type of best camping solar panels is suitable for your particular case and request. Monocrystalline or polycrystalline panels are mainly used in European countries, while amorphous panels are in use in America.
Best Portable Solar Panel for RV
Single Crystal Type
Dark brown or black solar panels for hiking are most commonly used in temperate latitudes. In ideal conditions, they boast high efficiency with a relatively smaller size. Such solar panels for car camping contain silicon crystals, usually about 10 cm in size. If you place RV portable solar panel kits at an ideal angle to the sun, the efficiency will be about 14-18%. Thanks to this, monocrystalline outdoor solar panels are among the most efficient.
Polycrystalline
Foldable Solar Panel for Camping
They contain polycrystalline cells, which are slightly easier to manufacture than their counterparts, reflected in the lower purchase price. However, one has to reckon with lower efficiency, usually in the 12-17% range. Polycrystalline solar panel for camping has uniform characteristics in ambient light.
You can recognize these small solar panels for camping by the blue tint, the individual cells have different sizes, and the suitcase solar panel for RV is made up of many smaller crystals. These solar panels for hiking are suitable for side placement when the light is more diffused.
Thin Film Amorphous
Best Solar Panels for Camping
They are used in large areas, for example, not very well-oriented car roofs. These car camping solar panels have higher sensitivity even at low sunlight intensity.
The basis of an amorphous solar panel charger for camping is a thin layer of silicon that is placed on foil or glass. The efficiency indicated by manufacturers is usually about 7-9%. To achieve the same performance as monocrystalline or polycrystalline solar panels for camping, you need an area that is 2.5 times larger. However, with year-round use, the level of energy received from them will be 10% higher than that of previous types. These foldable solar panels for camping are more sensitive to scattered sunlight.
There are various types of portable foldable solar panels on the market. Still, in most cases, you should only be interested in monocrystalline solar panels for camping (they are the most efficient). They are available in a harder "rigid" version (with aluminum or any other metal frame) and a flexible version. The second option is designed for mobile solutions due to its lower weight.
Benefits of Solar Panel Use When Camping
The best foldable solar panel has a few key benefits that camping and outdoor enthusiasts will want. Here are some of them:
Most of panels are easy to carry

They are very effective

Panels will serve you for a very long time

100% eco-friendly
Foldable solar panels for tent camping are packed neatly into a sturdy carrying case when not in use, making them easy to store or place in your car or motorhome. Carrying them to the campsite and set up is easy thanks to their lightweight design. Increase their efficiency by pointing the portable camping solar panels directly at the sun without any obstruction.
Remember to be careful when handling your solar panel for travel because damaged cells provide less power.
The standard warranty for best folding solar panels is 25 years, when their efficiency should be at most 80%. However, small camping solar panels can last more than 35 years.
Moreover, the electricity produced by solar panel chargers for camping is 100% environmentally friendly, no fuel is burned during production, so emissions and waste are not generated. Summing up, solar panels camping is quite a profitable investment in your comfort when camping. Of course, they also have disadvantages (like a rather high price), but the resulting comfort level is worth it.
{"ticker_effect":"slide-v","autoplay":"true","speed":"4000","font_style":"normal"}