How To Pick a Solar Company in New Mexico and Save Money?
1. New Mexico's solar-friendly laws and sunny climate make solar installation a shrewd investment.
2. Solar installations in NM increased by 15% in 2020, indicative of rising consumer trust.
3. State regulations mandate utility companies must achieve 50% of power from renewable sources by 2030.
4. Solar firms offer a range of high-impact financing deals, maximizing consumers' ROI.
5. NM's abundant 310 sunny days annually boosts solar panel performance and cost-efficiency.
6. Dedicated solar grants and tax credits reduce costs by up to 26%.
7. The typical solar panel payback period in NM is 8 years, thanks to favorable tariffs and incentives.
8. Solar companies should provide warranties and guarantees, securing long-term output and savings.
9. The NM Solar Energy Association registers only committed solar providers; a must-check for consumers.
10. The adoption rate of solar energy in NM tops the national average by 17%, reflecting solar's value and potential.
11. Industry competition keeps prices competitive, promising robust savings for consumers.
Ensure your chosen solar company fulfills these conditions to fully tap into New Mexico's solar boom.
How Much Electricity Solar Panels Generate In New Mexico?
In New Mexico, residents receive 5.7 hours of peak sun daily on average, ranking as the second sunniest US state. With a 5kW solar panel system, it can yield approx. 6,975 kWh annually. This is due to 300+ sunny days, allowing optimal efficiency.
Notably, seasonal variations exist. Summer months may generate around 675 kWh monthly while winter months might output just 400 kWh. However, the spring and fall hover around 575 kWh. Remember, these estimates fluctuate based on specific system setups and local weather conditions.
More than sunlight intensity, NM's altitude also contributes significantly to solar energy production. Higher altitudes sometimes result in more solar radiation absorption, increasing the effectiveness of your panels.
Combining NM's climate and geography, residents secure a highly productive solar setup. A well-installed solar power system offers fantastic energy self-reliance in the Land of Enchantment.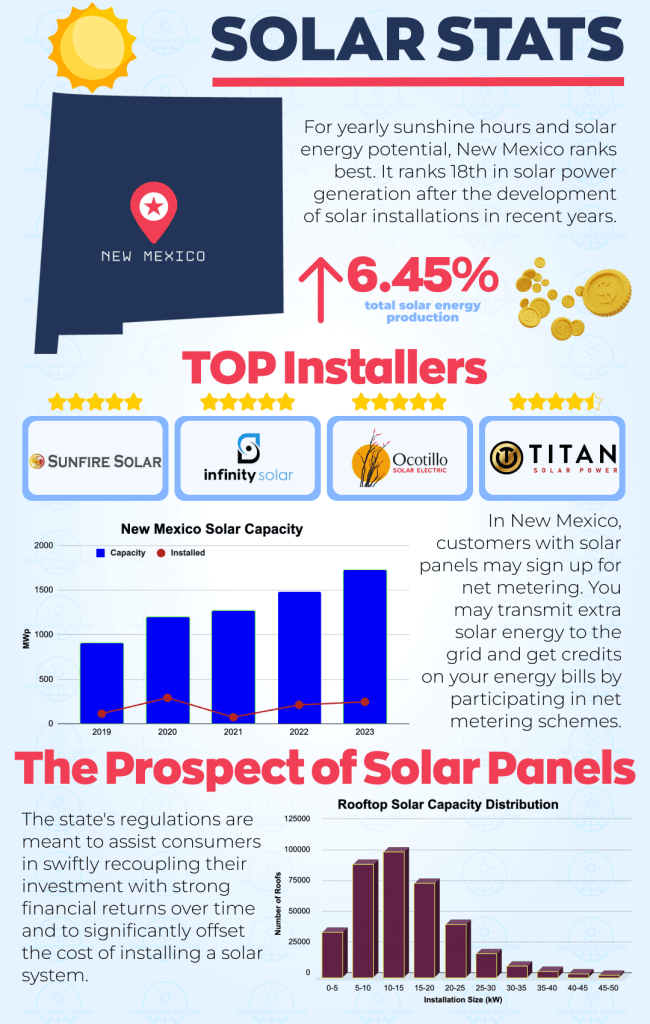 Find best solar installers in New Mexico
1300 Rufina Cicle Suite B-1, Santa Fe NM, 87507

72 mi

3209 Richards Lane, Santa Fe NM, 87507

72.2 mi

3209 Richards Ln, Santa Fe NM, 87507

72.2 mi

9600 Tennyson St NE, Albuquerque NM, 87122

83.9 mi
Average Cost of Solar Installation in New Mexico by System Size
| System size | Cash purchase (After tax credit) | Financed purchase (After tax credit) |
| --- | --- | --- |
| 3kW | $7,113 | $7,623 |
| 4kW | $9,476 | $10,164 |
| 5kW | $11,777 | $12,649 |
| 6kW | $13,867 | $14,879 |
| 7kW | $16,159 | $17,331 |
| 8kW | $18,272 | $19,618 |
| 9kW | $20,127 | $21,599 |
| 10kW | $22,358 | $23,982 |
What To Look For in a Solar Installer?
1. Evaluate experience: Ensure your installer is NABCEP certified, an industry gold standard.
2. Verify licensure: New Mexico's Regulation & Licensing Department mandates licensing for solar installers.
3. Understand warranties: Insist on a minimum 25-year performance warranty, industry norm.
4. Check insurance: NM law requires solar installers to carry both liability and workers' compensation insurance.
5. Verify bonding: State law also mandates performance bonds to secure warranty fulfillment.
6. Financial options: Numerous state and federal incentives are available, like NM's solar market development tax credit.
7. Performance estimates: Use the NREL's PVWatts calculator for an unbiased performance estimate.
8. Check reviews: A high score on the Better Business Bureau is a promising sign.
9. Project timeline: Keep New Mexico's average 40-day installation duration in mind.
10. Consider local climate: With 280 sunny days a year in NM, sun exposure is beneficial.
11. Equipment options: Consider quality, lifespan, and production capacity of different solar panels.
For a state ranking third in the US for solar potential, New Mexico residents should optimize this resource.
Is It Worth Investing in Solar in New Mexico?
Absolutely! Setting up solar power in New Mexico's baking climate is a worthwhile venture. Data indicates that New Mexico enjoys up to 300 sunlit days annually, providing ample energy potential. The state's radiant resources make it ideal for solar investments. With its renewable portfolio standard, the state mandates utilities to procure 20% power from renewables by 2020. It incentivizes clean energy.
The solar ITC can slash installation costs by 26%. Plus, New Mexico provides 10% state-level tax credit. Positive cash flow, right? In 2020, over 10,000 solar installations took place across the state, a number projected to escalate by 20% in 2021. The installation cost? Less than $3 per watt, a 70% drop in a decade. Economical, indeed!
Moreover, New Mexico's state-level law, SB489, guarantees investment protection. It stipulates 50% renewable energy by 2030. A clear roadmap to greener future! Besides, solar panels also harness surplus energy for new opportunities. It can allocate to feed-in tariff schemes, bringing consistent ROI. An example is El Paso Electric, offering up to $0.03 per kWh.
So, investing in New Mexico's solar power game is a win-win, backed by data and legislative support.
How Solar-Friendly Is New Mexico?
The sun-drenched state of New Mexico is a solar energy powerhouse. Solar capacity here increased by 9% in 2020. According to the Solar Energy Industries Association, New Mexico ranked 13th in the nation for installed solar power. With more than 938 megawatts of solar power installed statewide, it's evident why.
State legislation is also solar-friendly. The NM Energy Transition Act mandates 50% renewable energy by 2030. It doesn't stop there; an ambitious 100% carbon-free mandate is set for 2045. This legislative push fuels solar sector growth.
The state's climate is a solar developer's dream. With 278 sunny days annually, it surpasses the US average. This natural resource propels higher solar panel efficiency.
Example? Kit Carson Electric Cooperative. A 100% solar offset during daylight hours was achieved in 2020. Such success stories are numerous.
In conclusion, New Mexico's solar-amicable laws, sunny climate, and increasing capacity have positioned it as national solar leader. For companies looking to invest (or already investing) in this sector, it's undoubtedly a golden opportunity.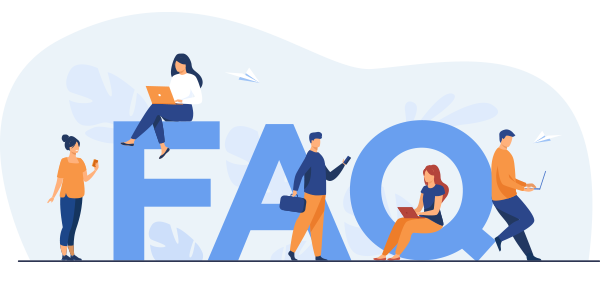 Frequently Asked Questions
What are the most important factors to consider in New Mexico State?

Consider available sunlight in your area. Research potential system size for optimal power. Review local utility rates. Understand your power usage pattern. Assess property orientation and roof angle. Consider roof quality for panel installation. Familiarize with local permits regulations. Look into financing options like loans, leases, or PPAs. Verify credentials of potential solar installers. Scan client reviews and ratings. Calculate probable savings over panel lifetimes. Check for local incentives and federal solar tax credit eligibility. Remember, solar's a long-term investment!

How do I find the most affordable solar installer in New Mexico State?

Start by conducting targeted online research on solar installers. Look at customer testimonials and review supporting documentation. Comparison shopping is crucial; assess differing quotes from numerous companies. Pay attention to the cost per watt and equipment quality. Remember, low upfront cost may not guarantee overall affordability. Evaluate the offered warranties; longer durations signify reliable installations. Assess the installer's certification; NABCEP certification ensures adherence to national standards. Lastly, consider local installers; these usually offer competitive prices with personalized service. This robust evaluation ensures you select the most affordable, yet high-quality solar service in New Mexico. Remember, cheaper isn't always better.

Which companies did we not choose for the best in New Mexico State?

We aim for transparency! Not all solar firms made the cut. Reputation and customer feedback are key. Lack of consistent quality performance? They're out! Failing to meet our strict standards? Adios! We demand high customer satisfaction. Legitimacy is non-negotiable. But worry not! Our top picks are the cream of the crop. Rest assured, we've got your solar salutations covered! Always striving for the brightest reviews in New Mexico!