How To Pick a Solar Company in New Hampshire and Save Money?
1. New Hampshire's photovoltaic payback period is only ten years. Investing in solar has quick ROI.
2. New Hampshire's law supports net metering for systems up to 1 MW. This allows more significant energy savings.
3. According to SEIA, the state's solar installed capacity is 127.11 MW. This highlights a solid solar trend.
4. Solar Renewable Energy Certificates (SRECs) can provide additional income in New Hampshire. It boosts solar adoption.
5. According to NREL, New Hampshire's average sun-hour per day is 4.5. A higher output equals lower costs.
6. NH's Property Tax Exemption for Solar Energy systems enhances affordability. This law reduces ongoing solar expenses.
7. A skilled company would leverage NH's Direct Cash Incentive. This program offset your system's installation costs.
8. Choose a firm with adept handle over Mandatory Green Power Option. It ensures cleaner energy production.
9. NH's solar carve-out in Renewable Portfolio Standard stimulates the market. More demand results in competitive pricing.
10. In New Hampshire, solar loans are tax-deductible, reducing the effective interest rate. Another saving to consider.
11. Lastly, use NH PUC's solar calculator to estimate savings. Use it to assess a firm's quotation accuracy.
How Much Electricity Solar Panels Generate In New Hampshire?
Under New Hampshire's abundant sunlight, well-installed solar systems thrive. The state's annual solar irradiance measures at 4.2 - 4.6 peak sun hours - an impressive figure! What does this look like in power harnessing? A standard 5kw system generates approximately 6,400-7,300 KWh annually. That's sizable energy independence! Southern-facing panels in New Hampshire can capture maximized output, thanks to the favorable latitudinal position.
Seasonal variations though? Indeed, they matter. Summer's longer days mean peak performance - up to 30 KWh daily. Conversely, winter yields around 6-10 KWh.
It's a no-brainer that system quality and installation significantly influence results. Professional installation ensures optimal tilt and placement. This directly amplifies your energy potential.
Remember, New Hampshire's conducive climate paired with state-of-the-art solar equipment equals bountiful, clean energy. Characterized by critical factors – high solar irradiance, perfect latitudinal location, and favorable climate – the solar journey in New Hampshire is indeed promising. A green choice for a greener future!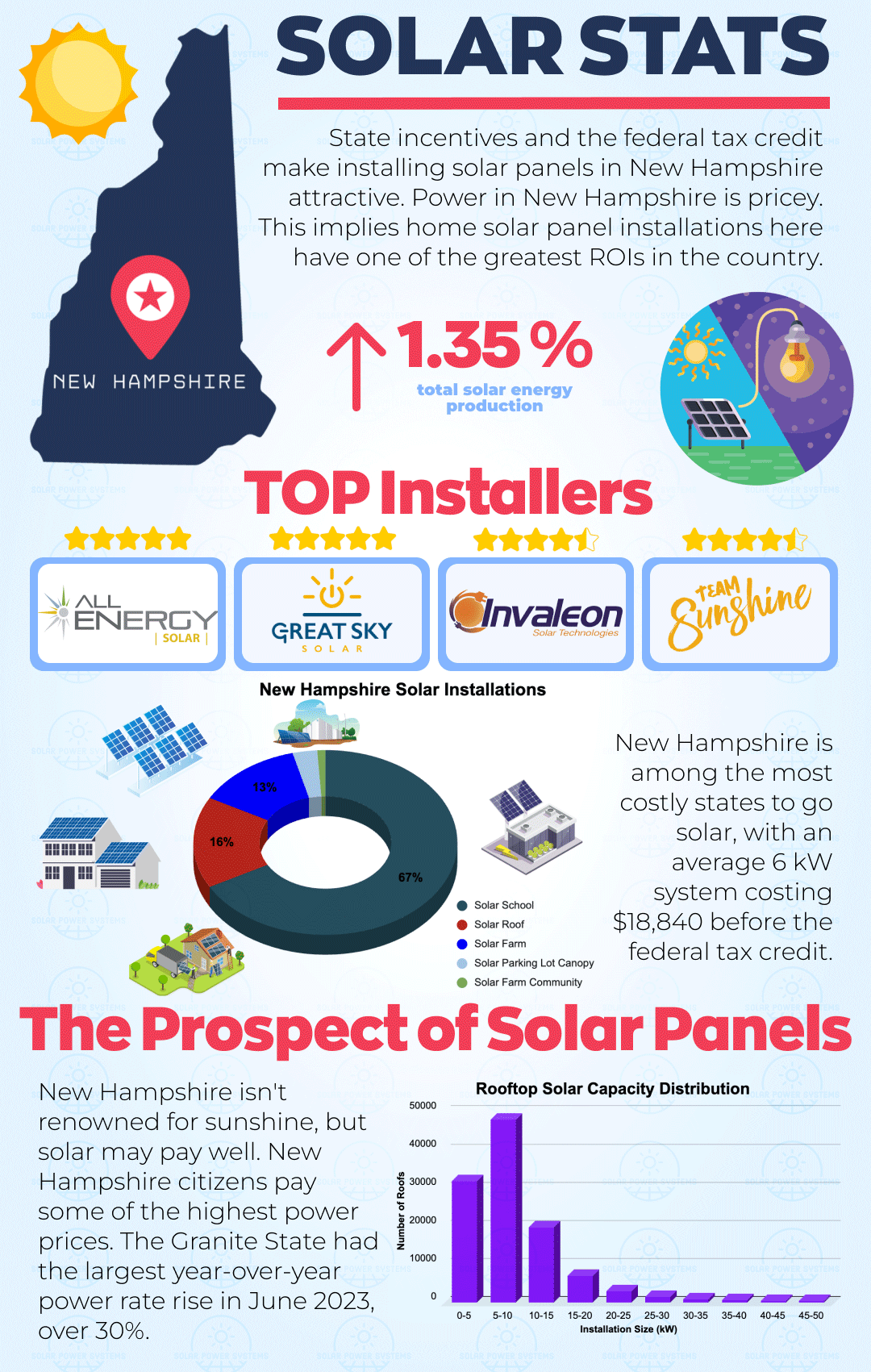 Find best solar installers in New Hampshire
57 Ryan Road, Bow NH, 03304

6.1 mi

57 Ryan Rd, Bow NH, 03304

6.2 mi

264 South River Road Suite 538, Bedford NH, 03110

18.4 mi

264 S River Rd, Bedford NH, 03110

18.4 mi
Average Cost of Solar Installation in New Hampshire by System Size
| System size | Cash purchase (after tax credit) | Financed purchase (after tax credit) |
| --- | --- | --- |
| 2kW | $7,240 | $7,785 |
| 4kW | $14,480 | $15,570 |
| 6kW | $21,720 | $23,355 |
| 8kW | $28,960 | $31,140 |
| 10kW | $36,200 | $123,925 |
| 12kW | $43,440 | $46,710 |
| 14kW | $50,680 | $54,495 |
| 16kW | $57,920 | $62,280 |
| 18kW | $65,160 | $70,065 |
| 20kW | $72,400 | $77,850 |
| 25kW | $90,500 | $97,313 |
What To Look For in a Solar Installer?
1. Consider the company's credentials. Hunt for local solar installers steeped with experience.
2. Familiarize yourself with NH's solar incentives. The Renewable Energy Incentive Program, or REIP, offers cash back on installations.
3. Check installer's certifications and affiliations. Reputable installers are NABCEP certified.
4. Evaluate equipment brands and warranty. Top-notch brands ensure robust and efficient performance.
5. Assess the installer's track record. Check for testimonials and customer reviews.
6. Ponder NH's net metering policy. Solar owners get credited for power in excess fed back into the grid.
7. NH's climate is solar-friendly. In 2020, NH received an average of 4.18 hours of sunlight per day.
8. Look for local installers. They're familiar with state, county and city regulations and permit requirements.
9. Check financing options. Many NH solar installers provide PPAs, leases, loans, and self-owned systems.
10. Monitor solar installer transparency. They should provide the system's total cost upfront.
11. Estimate the payback period. In NH, it averages around 9-10 years.
12. Detect the appropriate system size. A 6 kW system is typical for NH homes.
13. Analyze the cost per watt. The average cost in NH is $2.80 per watt.
Is It Worth Investing in Solar in New Hampshire?
If you're a savvy investor, New Hampshire's burgeoning solar sector is a golden ticket worth considering. According to the Solar Energy Industries Association (SEIA), New Hampshire's solar inclination is remarkably stellar, generating 64.24 megawatts as of 2020. That's enough juice to power 7,440 homes.
The Granite State's requirement for 25.2% renewable energy by 2025, enshrined in its Renewable Portfolio Standard, opens promising avenues for entering the solar market. Moreover, the town of Hanover moved a step forward, adopting an ambitious goal to source 100% of its electricity from renewals by 2030.
The state's favorable policy landscape boosts this investment appeal. The key legislative framework includes net metering, allowing solar owners to slash energy expenditures and enhance ROI. Furthermore, New Hampshire's solar easement rules protect your right to the sun, guaranteeing your system's long-term productivity.
Additionally, incentives like the Residential Solar Investment tax credits further sweeten the deal, reducing system costs by 26%. Plus, the Granite State's innovative Property Assessed Clean Energy (PACE) financing facilitates easy installation.
With its progressive regulations and appealing climate, New Hampshire positions itself robustly in the solar game. The state presents a compelling mix of factors favoring a high return, solar investment. Therefore, New Hampshire provides a green-hearted investor ample opportunity to cash in on the sunny side.
How Solar-Friendly Is New Hampshire?
Recognized as a solar stronghold, New Hampshire ranks 33rd nationwide with 88.65 megawatts of solar power installed. This solar capacity powers around 10,000 houses. Granite State's policies and regulations promote renewable energy usage, with a robust RPS law targetting 25.2% renewable energy by 2025. Regional examples play upfront. Portsmouth, with its 348.4 kWh/Kw solar radiation, showcases more efficient solar energy production than most states. Net-metering policy here supports residential solar power, crediting folks for excess renewable generation, thus fostering investments.
The state also allows solar PPA's (Power Purchase Agreements), reducing the financial hurdle for residents wanting solar power. In fact, it's estimated that solar electricity costs between $0.05 and $0.11 per kilowatt-hour. The state has undoubtedly upped its solar-friendly game. Programs like New Hampshire's Renewable Energy Fund and state tax credit exemplify this.
Even with New Hampshire's harsher winter climate, advancements in solar panel technology ensure optimal performance. Researchers quote, solar panels lose only 0.45% efficiency per degree rise over 25°C, deeming winter months excessively efficient for solar power. With favorable laws, climate variance, and innovative solutions, it's safe to affirm that New Hampshire embraces a more solar-friendly future.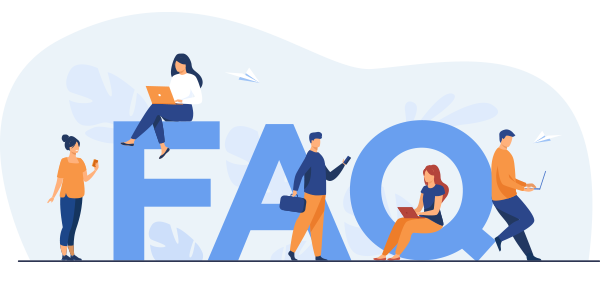 Frequently Asked Questions
What are the most important factors to consider in New Hampshire State?

Review the sun exposure of your property. Consider the angle and orientation of your roof. Check the local climate's implications on performance. Understand state policies regarding solar energy. Take into account the power utility rates. Weigh in the costs versus the savings. Evaluate the suitability of your roof for solar panels. Lastly, opt for a reputable solar installation company. Basically, get savvy about each element influencing your solar venture's success in the Granite State.

How do I find the most affordable solar installer in New Hampshire State?

Begin by conducting comprehensive market research. Harness the power of online resources and customer reviews. Comparison of quotes from multiple installers is fundamental. Prioritize installers who offer competitive pricing and have demonstrable experience. Look for those who provide valuable warranties and maintenance services. Ensure they possess the necessary certifications and insurance coverage. Don't compromise on quality; affordability doesn't always mean the best choice. Analyze the ROI of each offer meticulously. Lastly, consider local installers as they're familiar with region-specific energy incentives and grid regulations. Remember, it's a long-term investment. Make your selection wisely.

Which companies did we not choose for the best in New Hampshire State?

Our aim is to provide reliable and accurate ranking. Some firms didn't meet our high standards. Their performance lagged or customer service dawdled. A comprehensive review process weeds out the underachievers. We inspect every angle - from installation speed to post-implementation support. Installation quality, service record and solar array cost matter. Only the top-notch rising suns make the cut. If the performance doesn't dazzle, they're axed. Our stamp of approval isn't easy to achieve, ensuring you get the cream of the crop. In this solar game, not every star gets to shine bright in our list.