How To Pick a Solar Company in Virginia and Save Money?
1. Choose a firm with demonstrable experience. In 2020, Virginia had 338 solar companies. But only 26% had a decade-long track record.
2. Spot the firm that offers high-quality solar panels. In Virginia, nearly 60% of residents are homeowners. Their solar investments should last a lifetime.
3. The service provider must adhere to Virginia's solar laws and building codes. Since 2021, new guidelines ensure increased solar installation.
4. Select a company offering considerable solar incentives. As per the Virginia Clean Economy Act of 2020, the Government now provides extensive solar incentives.
5. Consider the firm's knowledge of Virginia's unique climate. The state sees an annual average of 194 sunny days, so proper panel alignment is essential.
6. Relevantly, ensure that the company understands Virginia's net energy metering policies. As of 2020, the cap increased from 1% to 6%.
7. Savings should be significant. On average, Virginians using solar save around $44 monthly. The company must propose a plan that ensures similar or greater cost savings.
8. Lastly, the firm must have an excellent after-sales service. In 2019, the US saw a 24% growth in solar installs, with Virginia contributing significantly. A robust after-sales structure should support this growth.
Remember, an informed decision is a profitable decision.
How Much Electricity Solar Panels Generate In Virginia?
Examining Virginia's climate data, we see around 4.5-4.8 hours of peak sunlight daily. For a common 5-kilowatt system, you can anticipate 19-22 kilowatt-hours (kWh) output daily. An average Virginia household uses 11,400 kWh yearly, equating to about 31 kWh daily. Thus, a 5 kW system could meet a significant portion of this demand, reaching around 61-71% coverage. Seasonal fluctuations will, however, affect these estimates. During winter, reduced sunlight could decrease output by up to 20%. Conversely, summer could boost production by as much as 30%. Leveraging this solar potential, Virginia residents can significantly reduce dependence on grid electricity. With the introduction of contemporary high-efficiency panels, these estimates could climb further. This is a compelling argument for shifting towards solar energy in the sunny lands of Virginia! Moreover, state's Green Virginia Plan encourages renewable energy, making solar panel installation an appealing proposition.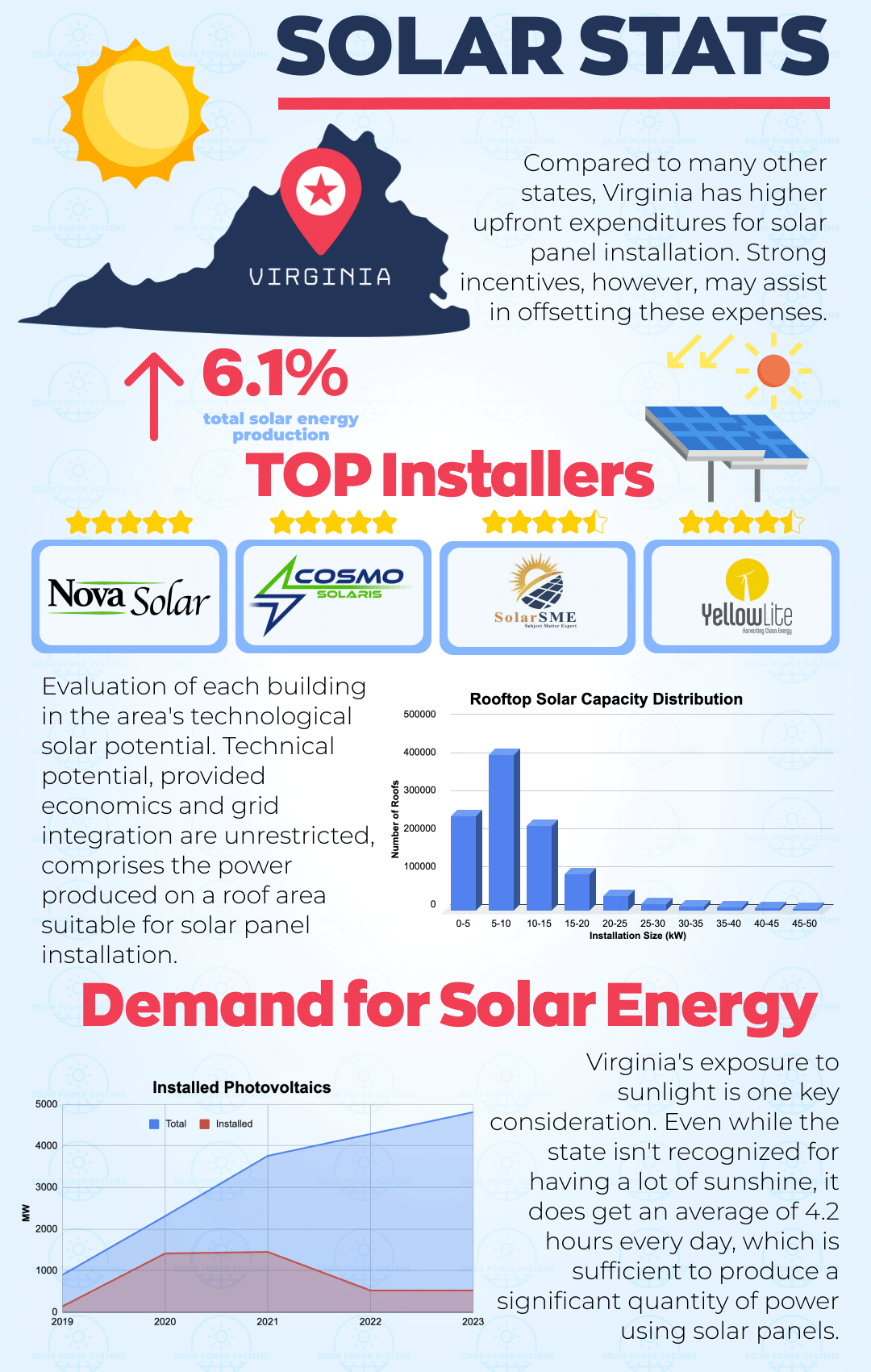 Find best solar installers in Virginia
490 Westfield Rd, Charlottesville VA, 22901

45.3 mi

3022 Lee Jackson Hwy, Staunton VA, 24401

49.2 mi

111 Anderson Mill Drive, Bumpass VA, 23024

52.6 mi

111 Anderson Mill Dr, Bumpass VA, 23024

52.6 mi

3015 W Clay St, Richmond VA, 23230

65.6 mi
Average Cost of Solar Installation in Virginia by System Size
| System size | Cash purchase (After tax credit) | Financed purchase (After tax credit) |
| --- | --- | --- |
| 4kW | $10,560 | $11,319 |
| 5kW | $13,200 | $14,149 |
| 6kW | $15,840 | $16,979 |
| 7kW | $18,480 | $19,808 |
| 8kW | $21,120 | $22,638 |
| 9kW | $23,760 | $25,468 |
| 10kW | $26,400 | $28,297 |
What To Look For in a Solar Installer?
1. First, look out for Virginia's solar power incentives. The state offers multiple options, such as net metering.
2. Consider the regional climate. Virginia experiences diverse weather, impacting solar panel efficacy.
3. Use real-time market data. In Virginia, the price of solar is about $3.02/watt.
4. Local regulations matter. Virginia law currently allows third-party Power Purchase Agreements (PPAs).
5. Solar has tax benefits. The Federal Solar Tax Credit offers a 26% rebate.
6. Look for licensed installers. Virginia law requires solar contractors to be properly licensed.
7. Review company's track record. Reliable installers should have a proven record in dealing with Virginia's policies.
8. Check for warranties. Virginia lacks specific solar warranty standards, making provider-offered warranties crucial.
9. Assess your energy consumption. The average Virginian household consumes 1,141 kWh/month.
10. Project your energy cost savings. The average Virginian can potentially save around $991 per year.
11. Consider your home's orientation. Virginia's latitude provides optimal south-facing panel installation.
12. Evaluate the firm's technical knowledge. Virginia's diverse climate requires specific solar technology expertise.
13. Bank on providers' after-sales service. Virginia's yearly inspections and maintenance are critical for solar efficiency.
14. Review financing options. Virginia's average payback period is 8 years due to state-specific incentives.
Is It Worth Investing in Solar in Virginia?
Solar investments in Virginia are booming, thanks to boosted governmental legislations. The Virginia Clean Economy Act mandates 100% renewable energy by 2050. Companies are taking note, with a 60% annual increase in solar installations. Low-interest loans and federal tax incentives further sweeten the deal.
The state's climate is also solar-favorable, with approximately 200 sunny days per year. This abundance of sunlight provides a robust return on investment (ROI) for solar panel adopters. In fact, typical solar ROI in Virginia is within 8-12 years.
Moreover, the state's net metering policy allows excess energy to be sold back to the power grid. This policy drastically reduces electric bills, offering additional ROI beyond the solar installation.
For example, Richmond-based Sun Tribe Solar reported a 300% growth in 2020. They capitalized on Virginia's pro-solar climate and regulatory framework. Their success story can serve as an inspiring case for future investors.
Citizens are also leaning green, with a 2019 poll indicating 76% of Virginians favoring clean energy. The customer base for solar energy in Virginia is steadily growing.
Putting it simply, investing in solar power in Virginia stands a lucrative proposition.
How Solar-Friendly Is Virginia?
According to 2020 data, Virginia ranks 17th in solar power capacity. Solar panels generate a whopping 1,683.71 MW in Virginia, an impressive 3.2% of the state's electricity (SEIA, 2021). This partially equates to resolving 0.9% of Virginia's annual emissions by transitioning to solar energy.
The state's Renewable Portfolio Standard mandate sets a 15% renewable energy target. Virginia's legislation incentivizes solar adoptions with enticing policies. These include the solar Investment Tax Credit (ITC) providing a 26% income tax reduction. Recent regulations also push for a ten-fold increase in solar power consumption by 2030 (DSIRE, 2021).
With an average of 213 sunny days per year, Virginia outshines the national average (NCEI). Its solar irradiance measures at 4.56 kWh/m2/day, a promising figure for solar infrastructure (NREL). These are ideal conditions for harnessing solar power.
For instance, Dominion Energy's proposed 150 MW solar project in Prince George County is a bright example. It accentuates Virginia's drive towards a renewable energy economy. Ultimately, these numbers and policies cite Virginia as a significant solar-friendly player in today's green landscape.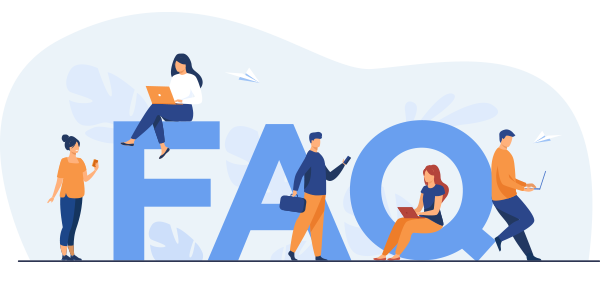 Frequently Asked Questions
What are the most important factors to consider in Virginia State?

First, review installation perks. Virginia offers sweet solar rebates, incentives, and tax credits. Analyze local weather patterns; more sunlight means more energy produced. Evaluate your roof's condition; sturdy, sun-exposed roofs are best. Consider your energy consumption; size your solar system to match usage. Review financial options; loans, leases, and Power Purchase Agreements offer flexibility. Lastly, research Virginia's solar installers; ratings, reviews, and customer experiences matter.

How do I find the most affordable solar installer in Virginia State?

Research is pivotal. Evaluate multiple providers for cost-effectiveness. Seek personalized quotes for a precise estimate. Study customer reviews rigorously to gauge satisfaction levels. Compare the service portfolios of different installers. Remember, a comprehensive warranty is as important as affordability. Understand what's included in the pricing. Prioritize certified, reputable installers over cheaper, less established ones. Leverage local solar tax credits to enhance affordability. Inquire about potential financing options the provider offers. Be vigilant of pricing that's too good to be true; quality must never be compromised. Combining these techniques can yield potential options for affordable solar installation in Virginia.

Which companies did we not choose for the best in Virginia State?

Absolutely, we appreciate your curiosity! Our review criteria are rigorous and robust. Essentially, we focus on performance indices, like client feedback, service quality, and bang-for-buck. Some companies didn't quite hit those high bars. Remember, our aim is to highlight Virginia's solar superheroes! We value your solar experience and our rankings reflect that. Truth is, we leave no stone unturned. Consequently, not every solar provider makes the cut. It's strict, but it ensures we're only suggesting the brightest and best!