How To Pick a Solar Company in Oregon and Save Money?
1. Oregon's solar potential is among the highest in the US: 65% of annual daylight is potential solar production time.
2. The Renewable Portfolio Standard (RPS) governs Oregon law: 50% state electricity must be from renewable sources by 2040.
3. Oregon law requires solar developers to attain Site Certificate from Energy Department before installation.
4. Oregon's Net Metering regulates excess solar power sale to the grid—it's priced at retail rate, maxing profits.
5. Federal Solar Tax Credit: allows savings, up to 26% off system costs in 2020. Oregon tax credits complement this.
6. Oregon's 2020 Residential Energy Tax Credit (RETC) allowed up to $6,000 off within 4 years per residence.
7. Determining company efficiency is crucial: some Oregon-based solar companies achieve 20% panel efficiency.
8. Be wary of Oregon's climate. Weather changes impact solar equipment durability – find a company guaranteeing resilient panels.
9. Consider installation costs. Oregon company prices vary, but average is $2.64/watt.
10. Reputation matters. Check companies with top reviews online for best results.
Weigh these factors in selecting a solar company to maximize energy savings.
How Much Electricity Solar Panels Generate In Oregon?
In the Beaver State, solar potential is truly noteworthy. Homeowners with just 500 sq ft. solar array can expect about 6,500 kWh yearly. With Oregon's PV-friendly climate, this holds even during the foggy months. In brighter months such as July, solar yield peaks to around 654 kWh, a significant rise from the December low of 284 kWh. Even so, optimal south-facing panels provide consistent energy throughout the year thanks to Oregon's 4.2 daily sunshine hours. Bent on solar power, Oregon law guarantees "solar access rights", impeding obstacles that block sunlight. Harnessing solar in Oregon offers more than kilowatts; it brings energy independence and remarkable savings. Degrees of sun 'n' cloud both have a silver lining! Remember, your real output depends on factors like panel orientation, tilt, and shading. Every solar project boasts its unique figures, yet Oregon's solar-friendly climate assures a profitable, green energy source. Your journey to solar starts here!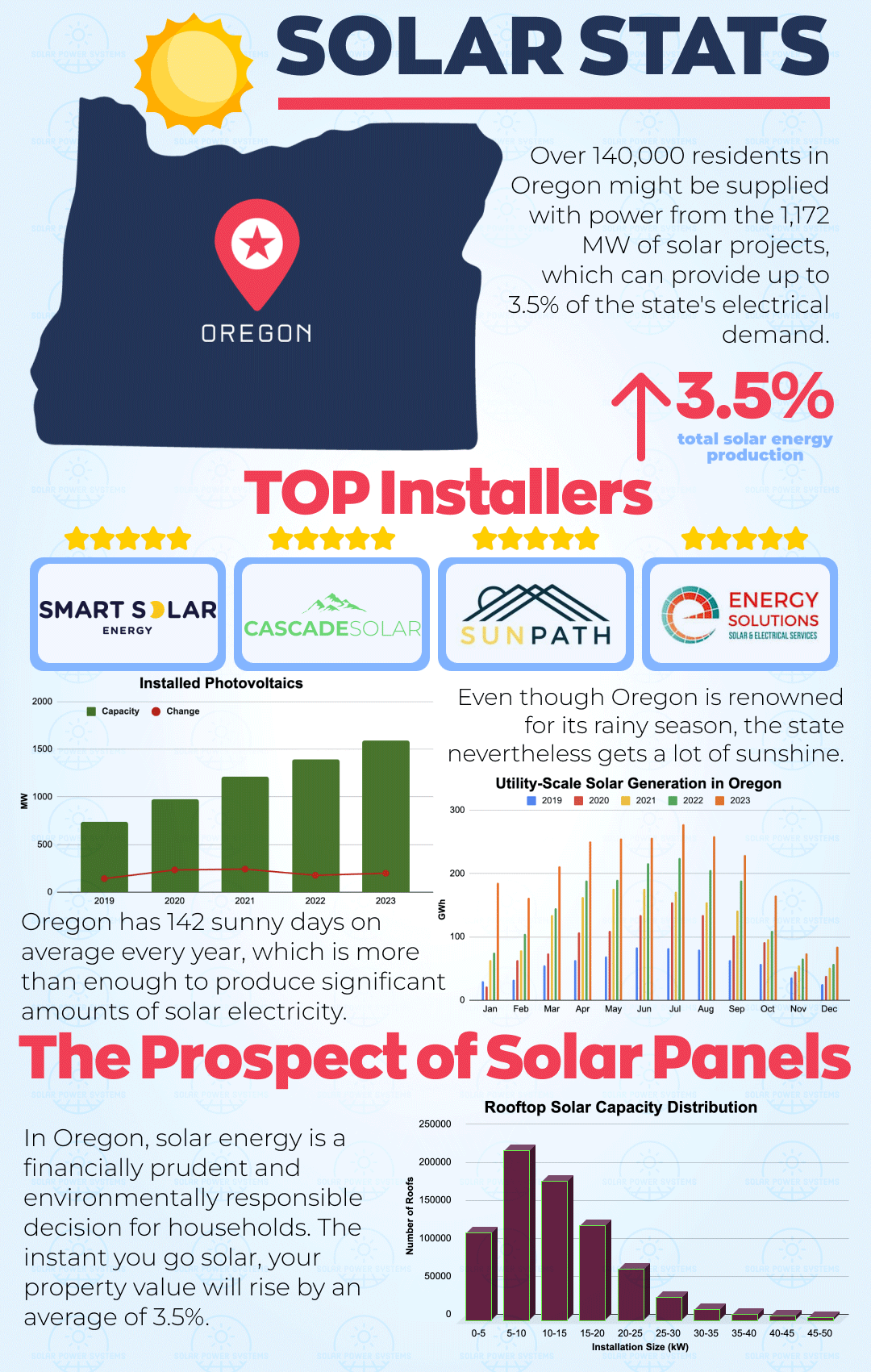 Find best solar installers in Oregon
2020 NE Linnea Dr, Bend OR, 97701

40 mi

50 SE Scott Street Building 13, Bend OR, 97702

41 mi

20784 NE High Desert Ln, Bend OR, 97701

41.5 mi

2447 NE 4th St, Bend OR, 97701

41.6 mi
Average Cost of Solar Installation in Oregon by System Size
System size

Cash purchase

(After tax credit)

Financed purchase

(After tax credit)

4kW
$10,896
$11,678
5kW
$13,200
$14,158
6kW
$15,180
$16,272
7kW
$17,694
$18,965
8kW
$20,368
$21,812
9kW
$22,224
$23,801
10kW
$24,620
$26,375
What To Look For in a Solar Installer?
1. Consider state law: Oregon's Renewable Portfolio Standard (RPS) targets 50% renewable power by 2040.
2. Local regulations: Counties and municipalities may have their own solar regulations. Check local ordinances.
3. Climate: Oregon's annual sunshine level is around 55%, suitable for solar power.
4. Installation costs: The average cost for solar installation in Oregon is about $3.62 per watt.
5. Solar rebates: Oregonians can receive up-to $6,000 in solar tax credits.
6. Installer's experience: Check the installer's track record. Years in operation matter.
7. Certifications: Insist on North American Board of Certified Energy Practitioners (NABCEP) certified installers.
8. Warranties: A substantial warranty, ideally 25 years, is preferred.
9. Customer reviews: Client testimonials highlight the firm's customer service and work quality.
10. PV Cell Efficiency: High-efficiency solar panels generate more power per square foot of the roof.
11. Energy Storage compatibility: The ability to add energy storage can increase grid independence.
12. Financing options: Explore cash purchases, solar loans, power purchase agreements (PPAs) and solar leases.
Remember: Generic national companies might lack local knowledge. Local solar companies often offer more personalized services.
Is It Worth Investing in Solar in Oregon?
Oregon is ideal for solar power investment. The state boasts over 200 sunny days annually. Investments are skyrocketing, with Oregon's solar industry growing by 53% in 2020. This robust growth demonstrates the potential return of solar investments.
The state legislation is solar-friendly too. Oregon law provides attractive solar tax incentives and rebate programs. The Residential Energy Tax Credit, for example, facilitates substantial savings.
Local utilities also offer incentives. According to the Oregon Department of Energy, homeowners can potentially save up to $5,000 on solar installation. These incentives underline the state's commitment to renewable energy.
Oregon's Renewable Portfolio Standard (RPS) supports the argument. The RPS mandates 50% renewable production by 2040. This legislative push solidifies the market's sustainability.
Additionally, investments can be recouped quicker than you think. Energy Trust of Oregon indicates that solar panel systems pay for themselves in less than ten years. Given their lifespan of 25+ years, it's profitable.
However, it's worth highlighting Oregon's relatively high electricity rates. This could enhance the appeal of solar power. By offsetting high power costs, solar panels ensure long-term savings.
So, Oregon's sunny climate, supportive legislation, and financial incentives make solar a solid bet. You stand to gain significantly from the sunny days while contributing to green energy efforts.
How Solar-Friendly Is Oregon?
The Beaver State's commitment to green initiatives is leading the charge. As per Oregon's Renewable Portfolio Standard, utilities must supply 50% of power from renewable energy by 2040. These mandates, coupled with generous financial incentives, position Oregon at a vantage point for solar growth. On the sunshine scale, Oregon scores approximately 3.93 kWh/, an ideal range for solar panel efficiency. In fact, solar adoption spiked by 53% in 2019, signifying public buy-in.
In Oregon, solar installation ranges from $2.58 to $3.50 per watt. State tax credits make this expenditure a fruitful investment. Furthermore, Oregon's Net Metering law allows consumers to offset electricity purchases, adding a competitive edge. Solar energy users can also earn Renewable Energy Certificates.
The state has initiated community solar programs that allow multiple customers to share a solar plant's output. Such endeavors visibly underpin Oregon's established legislature to future-proof energy sources. Illustratively, 267 solar energy companies operate in Oregon, employing over 4K locals. This doesn't merely signify big business; it indicates an ingrained culture of solar adoption.
Clearly, a strategic landscape is being cultivated in Oregon; a haven for solar energy embracers.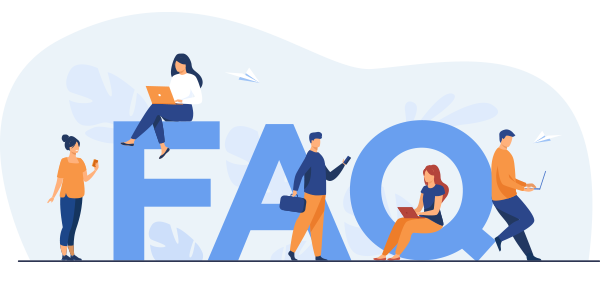 Frequently Asked Questions
What are the most important factors to consider in Oregon State?

Firstly, evaluate solar financing options. Cash, loans, PPA, or lease? Decide wisely! Check out installer's reputation. Is it solid or sketchy? Study potential roof or ground mount requirements. What about your warranty? Ensure it's long-lasting. Examine the solar panel's efficiency, brand, and aesthetics. Don't compromise! Analyze net metering policies thoroughly. They're vital to your savings. Understand the environmental benefits attached. Feel good, go green. Remember, your locale's weather pattern matters. Oregon's cloudy days can impact production. Last, watch for government incentives, the State of Oregon got your back.

How do I find the most affordable solar installer in Oregon State?

Research is key. Start with local directories and online platforms. Read user testimonials extensively. Check for certifications and valid licenses. Compare prices, installation types, and services offered. Negotiate to get a competitive deal. Remember, good value doesn't only mean low cost. Also consider installer experience and quality of service. Review financing options thoroughly. Beware, extremely low quotes may compromise installation quality. Always prioritize quality over price.

Which companies did we not choose for the best in Oregon State?

Sure thing, solar savvy reader. Not all companies made our hotlist due to variety of reasons. Some lacked the necessary credentials. A few struggled to meet the sunshine standard. Others couldn't quite blaze a trail in customer satisfaction. Several fell short of offering comprehensive solar solutions. A couple didn't offer statewide availability. So, while they may be shining in other aspects, they didn't quite crack our solar superstar code. Put simply, they didn't tick enough boxes to bask in our top-tier sunlight lineup. This ensures that our listed companies are leaders of the solar revolution in Oregon.